Recipe: Delicious Multi- grain croquet w/ carrot sauce
Multi- grain croquet w/ carrot sauce. See great recipes for Broccoli and carrots in oyster sauce too!. See great recipes for Multi-super grilled cheese too! MY FUSION VERSION TASTY SALSA FRIED RICE LOVING IT fenway.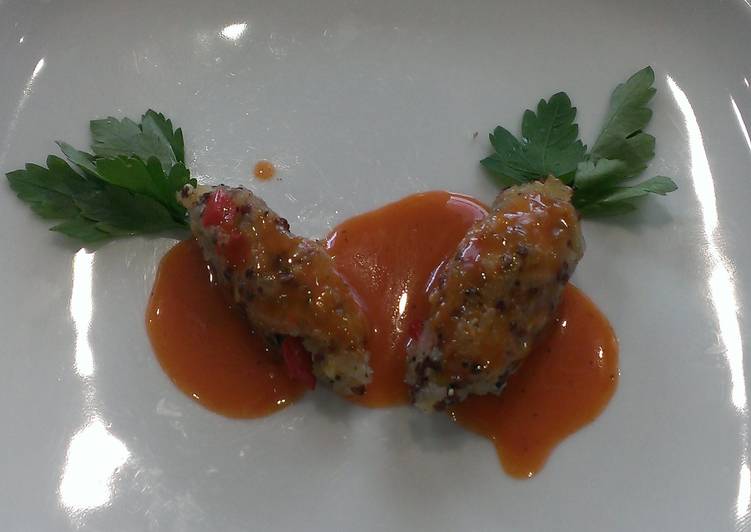 Multi grain hot dog buns. #Goldenapron #risenshine It's a best complimentary breakfast kind It can go well with veggeis,hot dog with cheese or with butter. Mash or press carrots through a course sieve. Add salt, nutmeg, egg and butter and mix thoroughly. You can have Multi- grain croquet w/ carrot sauce using 14 ingredients and 4 steps. Here is how you achieve it.
Ingredients of Multi- grain croquet w/ carrot sauce
You need of for the grains.
It's 1/2 cup of jasmine rice.
Prepare 2 tbsp of amaranth.
Prepare 2 tbsp of quinoa.
You need 1/2 cup of red pepper, small dice.
You need 2 tbsp of millet.
It's 1/2 cup of onion, minced.
Prepare of for the sauce.
Prepare 1 cup of carrot juice.
You need 2 tsp of olive oil.
You need 2 of scallions, whites only.
You need 1 of lemon zest.
Prepare 1 tbsp of cornstarch.
Prepare 1 tbsp of cold water.
Form into shapes resembling carrots, roll in bread crumbs and chill for several hours Fry in hot deep oil until browned. Drain on absorbent paper, tuck in a sprig of parsley in top and serve at once. The binder may be mixed with a filling or may be stuffed with it; this mixture is called a salpicon. Typical fillings include finely chopped meat, seafood, cheese, rice, pasta, or various vegetables as well as seasonings such as spices, herbs, and mushrooms.
Multi- grain croquet w/ carrot sauce step by step
Combine grains, coat w/ olive oil, salt & pepper. Toast in oven @ 350 for 15 mins.
Sauce pot – place grains, cover w/ water or stock set to simmer. Stir occasionally, cook until liquid is absorbed.
Combine sauce ingredients BESIDES SLURRY. Season to taste.
Simmer sauce for 5 mins, add slurry, simmer for another 5.
All Lunch Bento W/ Broccoli, Zucchini, Carrots, Squash, Onion and Japanese Special Sauce. Now it's time to show you. Introducing the Forks Over Knives cooking courses, designed to help you learn new techniques, flavors and styles to live your very best life. from #Rouxbe Baked Australian salmon served w poached egg, fried cheesy croquettes, fresh mix salad, mayo & our secret spices. THIS WEEK MONDAY: Pork loin w/gravy, brown rice, broccoli & carrots, multigrain bread, pineapple. TUESDAY: Veal parmesan, penne pasta w/sauce, Caesar salad w/Caesar dressing, Italian bread, apple.