How to Prepare Tasty Cheddar and Green Onion Mashed Potatoes
Cheddar and Green Onion Mashed Potatoes. Drain the potatoes, then put back in the pot. Mash with a potato masher until butter has melted and is mixed in. Add sour cream, milk, garlic powder and salt and mash until smooth.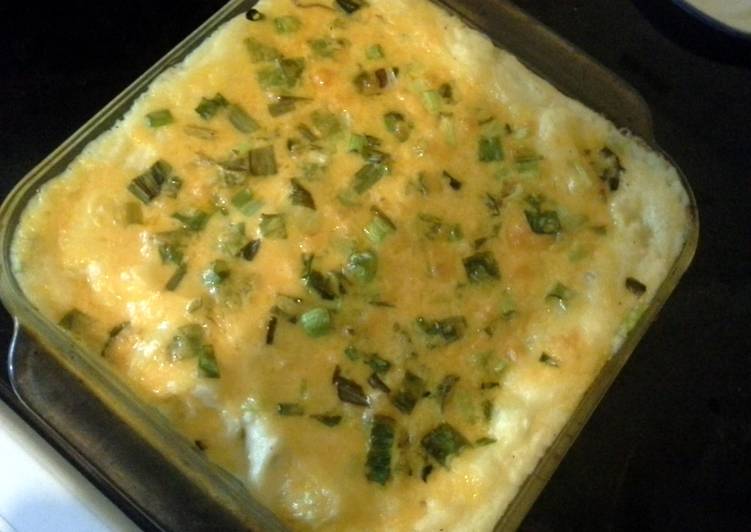 Heat one teaspoon olive oil in a non stick skillet over medium high heat until hot. Drop potato mixture by rounded tablespoons into the skillet, flatten slightly and cook three minutes on each side until golden. How to Make Mashed Potato Patties. You can cook Cheddar and Green Onion Mashed Potatoes using 6 ingredients and 9 steps. Here is how you achieve that.
Ingredients of Cheddar and Green Onion Mashed Potatoes
Prepare 3 lb of potatoes.
It's 3/4 cup of milk.
You need 4 tbsp of butter.
Prepare 2 cup of shredded sharp cheddar cheese.
It's 5 large of green onions, thinly sliced.
You need 1 dash of salt and pepper, to taste.
Start with cooking white onions and garlic in a large pan with a bit of butter or oil. In a large bowl, combine cold mashed potatoes, cheese, green onions, Worcestershire sauce, egg, flour, salt and pepper, and herbs. Place potatoes in medium saucepan; add enough water to cover. Whip up these loaded mashed potatoes, chock full of bacon, sharp Cheddar cheese, green onions, and sour cream, for an extra-special dinner side.
Cheddar and Green Onion Mashed Potatoes instructions
Peel potatoes. Cut potatoes into chunks; rinse well..
Cover potatoes with water and bring to a boil..
Reduce heat and boil gently for about 20 minutes, until tender..
Drain the potatoes and transfer to a large bowl..
Add the milk and butter; beat until smooth..
Stir in half shredded cheese and half sliced green onions.
add salt and pepper to taste.
Transfer potatoes to oven safe dish and add the rest of the cheese/green onions on top..
Place in oven on high broil to melt cheese..
In a large mixing bowl, combine the potatoes, cream cheese, sour cream, butter, garlic powder, and pepper. Mash together until mixture is smooth. Spoon into the prepared baking dish. Sprinkle with Cheddar cheese and remaining green onions. Turn potatoes onto opposite side after about half way, to brown the other side.