Recipe: Yummy Gorda's Cali style beer battered fish tacos
Gorda's Cali style beer battered fish tacos. Great recipe for Gorda's Cali style beer battered fish tacos. Love these fish tacos with my homemade corn tortillas. My kids prefer without tomatoes but looks prettier when properly garnished with the works but was still delish!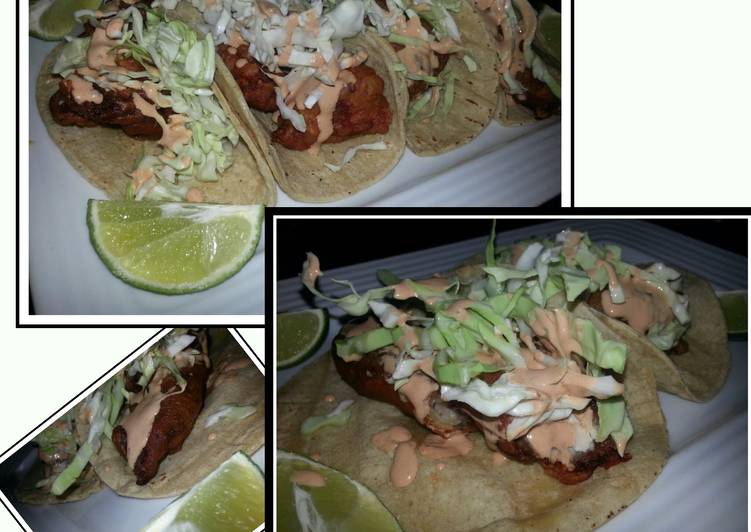 For the five-spice beer-battered fish: In a large bowl, mix flour, baking powder, five spice, salt and pepper together. Whisk in ice cold beer until the batter is thick like pancake batter. If you love Mexican fish tacos then these fried fish taco recipe along with amazing baja sauce recipe makes an amazing combination to fix delicious dinner in no time. You can cook Gorda's Cali style beer battered fish tacos using 14 ingredients and 6 steps. Here is how you cook it.
Ingredients of Gorda's Cali style beer battered fish tacos
You need of beer battered fish.
Prepare 3 lb of skinless & boneless fish fillets cut into strips (I like Cod or halibut for this but I have also used mahi mahi, snapper & tilapia which all work well).
You need 2 cup of all purpose flour.
You need 1 tsp of salt.
You need 1/2 tsp of black pepper.
It's 2 tsp of mustard powder.
Prepare 2 cup of beer.
It's 1 of oil for frying.
Prepare 1 of Corn Tortillas *1per fish taco*.
You need 2 cup of finely shredded cabbage.
You need 1 of *OPTIONAL INGREDIENTS* (Diced white onions, tomatoes & limes can be used for garnish along with the cabbage already listed).
You need of Chipotle cream sauce.
It's 1/2 cup of Crema Mexicana (can use sour cream *I like Daisy light sour cream*.
Prepare 1 of Chipotles in adobo sauce. *add to your liking (may add chopped chipotles to crema sauce if desired).
These delicious beer battered crispy fish tacos are a new twist on a Baja classic! Dipped in a spicy beer batter and topped with a crunch and fresh slaw, these fish tacos will be the new standard to any summer party! Pat the excess flour from the fish, then coat in the batter. Save a beer and fry up some fish for tacos!
Gorda's Cali style beer battered fish tacos step by step
In large mixing bowl combine Flour, salt, black pepper, mustard powder & beer. Mix well till forms semi thick batter..
Get pot ready for frying & put enough oil to fry fish in & heat till very hot *about 375°F if checking with thermometer* I used a heavy bottom sauce pan..
Dip each piece of fish in batter (let excess batter drain off) & slowly slide in hot oil. Do not crowd pot, fry only about 3 pieces at a time. Fry till golden crispy about 2-3 minutes per side. Drain excess oil on paper towels..
Heat pan to warm up tortillas. Heat till pliable (about half minute on both sides). Stack warm tortillas on a plate and cover till finished warming the rest..
To make the Chipotle cream sauce:Put half cup of Crema Mexicana(OR sour cream & remember you can also use mayo to make a chipotle mayo sauce) in bowl big enough to get your mix on. Add adobo sauce from chipotles to crema & mix well. The more adobo sauce you add the hotter cream sauce will be. If you can handle heat you can also use some of the Chipotles. Just remove the seeds, finely chop and mix it right in. This can also be done in a food processor for a smoother consistency. For easy storage, I just mix everything up in the same container the crema or sour cream came in..
To assemble fish taco: Put warm tortillas on plate & place piece of fish in center, drizzle a bit of the chipotle crema (or chipotle mayo) on fish then top with cabbage & other optional ingredients, add more crema to your liking and don't forget to squeeze some lime on them bad boys! Enjoy!!!.
Use your Mexican beer of choice. For the Beer Batter: Mix the flour, salt and pepper in a medium bowl. Gradually add in the beer while whisking. In a shallow bowl, whisk together beer, flour and salt. Using a fork, coat fish pieces in batter.