Recipe: Appetizing Tomato, Serrano Ham and Melon Salad
Tomato, Serrano Ham and Melon Salad. Put the melon, tomatoes and cucumber in a serving bowl with the shredded mint and toss together gently until the mint is well distributed. Make the vinaigrette by whisking the vinegar, honey and oil together. Season and stir into the salad.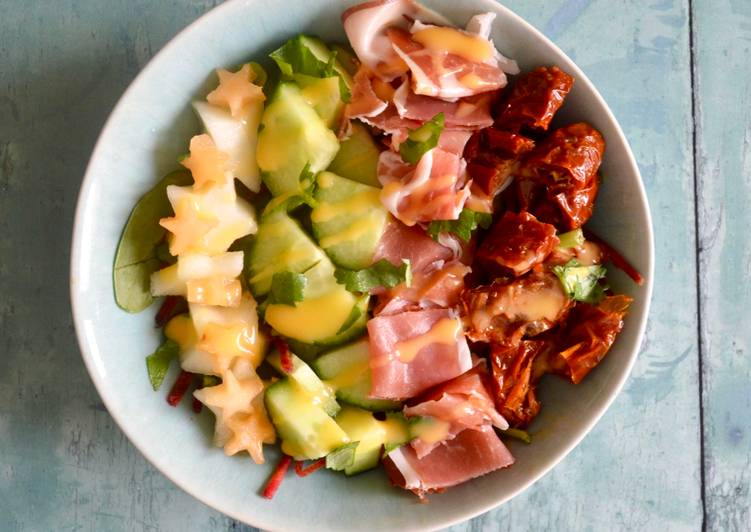 Place the melon leaving little spaces between the slices, and then place the ham in these spaces. Finally, add the burrata in the centre of the dish over the salad and melon, and dress with a little extra virgin. Cut the melon in half, peel and slice very thinly. You can cook Tomato, Serrano Ham and Melon Salad using 11 ingredients and 1 steps. Here is how you cook that.
Ingredients of Tomato, Serrano Ham and Melon Salad
It's 2 tablespoons of sun dried tomatoes, chopped.
You need 1/4 of honeydew or cantaloupe melon, cut into star shapes.
You need 1/4 of cucumber, sliced.
Prepare 4 of basil leaves, torn into pieces.
It's 6 of thin slices of Serrano ham, torn into pieces.
Prepare 4 of large handfuls of mixed leaves.
You need of For the dressing:.
It's 1 tablespoon of lemon.
Prepare 1 tablespoon of olive oil.
You need pinch of caster sugar.
Prepare of salt and pepper for seasoning.
Toss the lettuce and drained fennel with the olive oil and seasoning. Add the torn ham and thin melon slices. Spoon the lime juice over the melon and sprinkle with paprika. Cook's note: The sweetness of the melon and saltiness of the ham are a fine juxtaposition.
Tomato, Serrano Ham and Melon Salad instructions
In a large bowl mix together the tomatoes, melon, cucumber, basil, Serrano ham and salad leaves Make the dressing by whisking together the lemon juice, olive oil, caster sugar and seasoning Pour over the salad and enjoy.
Divide arugula, wheat berries, melon, corn, and serrano ham between two plates. Cut burrata in half, being careful not to lose too much cream, and place in the middle of each plate. Drizzle dressing over each salad and serve. Cut the flesh off the skin, then slice thinly. Usually made with the 'piel de sapo' variety of melon (also known as 'Santa Claus') and serrano ham, this recipe is a regular on the summer menus of many Spanish restaurants.