Recipe: Appetizing Brown sugar bacon garlic chicken
Brown sugar bacon garlic chicken. Sticky, crispy, sweet and garlicky, the I recently posted Slow Cooker Brown Sugar Garlic Chicken and wanted to post this oven baked version as well (with chicken breast meat!). The amount of bacon depends on the size of the chicken breasts and the length. Bacon Brown Sugar Garlic Chicken The only Chicken recipe you ever need.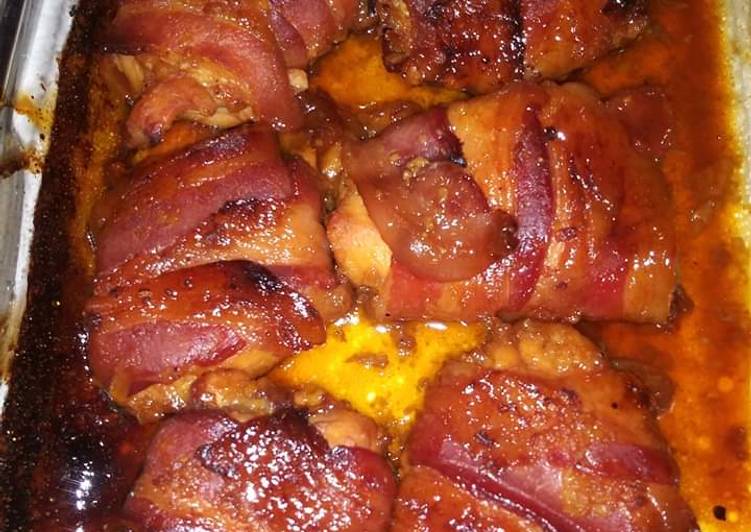 It uses chicken, a packet of dry Italian dressing and seasoning mix with brown sugar. It's quite a tasty recipe as it stands, very easy and everybody. This garlic brown sugar chicken recipe is super easy to make. You can have Brown sugar bacon garlic chicken using 6 ingredients and 5 steps. Here is how you achieve it.
Ingredients of Brown sugar bacon garlic chicken
You need 2/3 cups of brown sugar packed.
It's 3/4 tablespoon of garlic minced.
You need 3/4 teaspoon of kosher salt.
It's 1/2 teaspoon of black pepper.
You need 6 of boneless chicken breast.
It's 12 slices of bacon.
It's one of those quick and easy weeknight meals that you'll want to keep forever. I used the pre chopped garlic in the jar also. The sweet from the sugar evens out the garlic taste, but. This Backed Bacon with brown sugar is my favorite way to prepare bacon.
Brown sugar bacon garlic chicken step by step
In a large bowl add the Brown sugar garlic salt pepper mix until combined.
Coat the chicken in the brown sugar mixture.
Wrap each piece of chicken in 2 slices of bacon (try to wrap the bacon where the ends are under the chicken so does not unwrap while cooking).
Place the chicken into your baking pan and coat the top of bacon with the remainder brown sugar mixture.
Bake at 375 degrees for 25 to 30 minutes or until cooked through and brown (careful not to let the brown sugar burn and blacken).
Not only does it add a touch of sweetness, but this method makes clean-up a breeze! After that, simply lay out your bacon on the cooling rack, sprinkle the bacon with brown sugar, and pop the pan in the oven. Help yourself to my wonderful Italian stovetop chicken. It can be thrown together in minutes but tastes like you made a big fuss. Stir in broth and lemon juice; bring to a boil, stirring to loosen browned bits from pan.