Recipe: Tasty Bacon, Kale and Sweet Potato Tacos
Bacon, Kale and Sweet Potato Tacos. Sweet Potatoes and Kale combine to make an ultra satisfying and healthy meal that is beyond delicious! Leftovers are delicious the next day over a bed of quinoa or mixed with a can of black beans. About Sweet Potato and Kale Tacos Bacon, Kale and Sweet Potato Tacos BevKate Olympia, WA.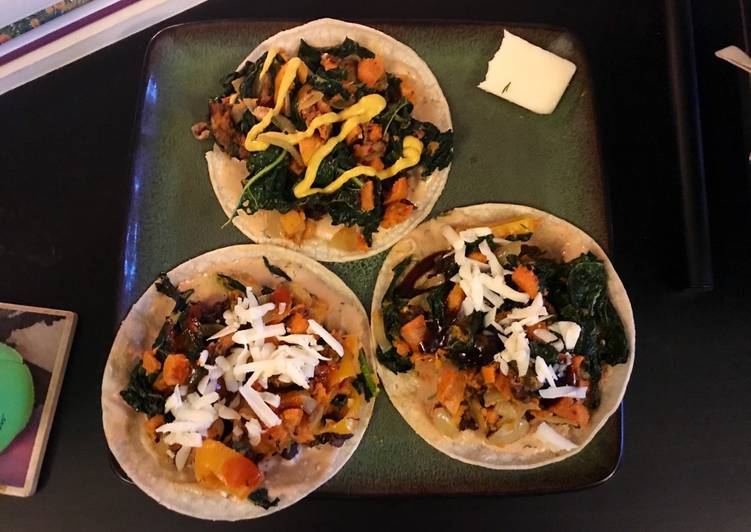 Heat oil in a medium saucepan over medium heat. By cutting the sweet potatoes in half length-wise before cooking, you reduce the cooking time. Bacon, kale, sweet potatoes, sweet peppers, and eggs. You can cook Bacon, Kale and Sweet Potato Tacos using 10 ingredients and 4 steps. Here is how you achieve that.
Ingredients of Bacon, Kale and Sweet Potato Tacos
Prepare of Sweet Potatoes.
Prepare of Bacon.
Prepare of Kale.
It's of Minced garlic.
It's of Onion.
Prepare of Sweet bell peppers.
Prepare of Black beans.
Prepare of Olive/coconut oil.
You need of Various seasonings/spices.
It's of Fresh cilantro.
It just goes to show that wholesome, hearty meals don't need to take a lot of effort or a long list of ingredients. That being said, making a hash brown breakfast is one of my favorite ways to clear out the left over bits and pieces of food in the fridge, so by all means go to town and. Reduce heat to medium, add sweet potatoes and onions to skillet. Season with cumin and paprika, then season with salt and pepper to taste and toss.
Bacon, Kale and Sweet Potato Tacos step by step
Pre-heat oven to 350 degrees. Peel and cut sweet potatoes into bite-sized cubes, then toss with olive oil, garlic salt, turmeric and pepper. Bake for 30-35 minutes or until cooked through..
Set black beans to medium heat with coconut oil and smoked paprika..
Sauté minced garlic until brown, then add bacon over med-high heat until cooked. Add onion and peppers, then kale..
Once sweet potatoes are finished, mix them with bacon and kale mixture..
Season with salt and pepper, add the kale and cover the pan. Place a large tortilla on a plate. Add ½ cup of the sweet potato mixture, ¼ cup of kale, a couple slices of avocado, cilantro and green onion into each burrito. Tightly roll the tortilla into a burrito. Continue until you use all the tortillas and sweet potato mixture.