Recipe: Appetizing Summer Fruit Salad🍓
Summer Fruit Salad🍓. Pay less than grocery store prices and get the convenience of easy delivery. Read Customer Reviews & Find Best Sellers. This really is a "Perfect" Summer Fruit Salad!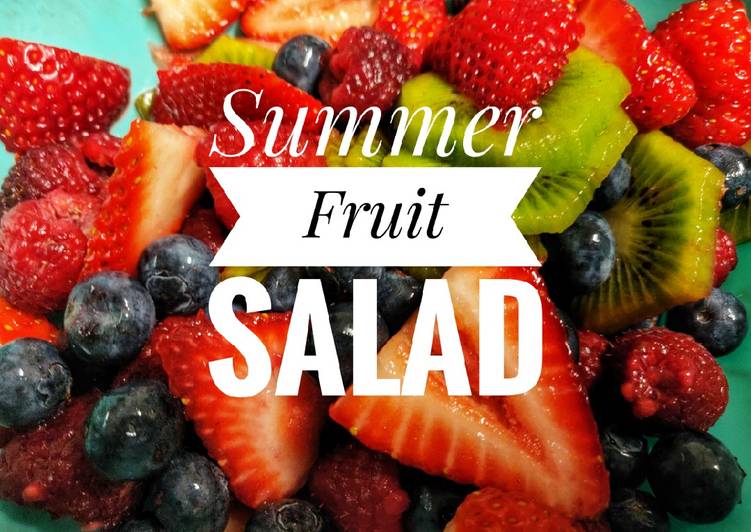 A terrific blend all your summer favorites -serve nice and chilled! Cool down on a hot and stuffy summer day with a fruit salad! Give friends a taste of the tropics on warm summer days with this refreshing fruit blend. You can have Summer Fruit Salad🍓 using 9 ingredients and 5 steps. Here is how you cook that.
Ingredients of Summer Fruit Salad🍓
It's 1 Cups of Sliced Strawberries.
It's 1 Cup of Blackberries.
You need 1 Cup of Raspberries.
Prepare 1 Cup of Blueberries.
It's 1 Cup of Sliced Kiwi.
Prepare 1 of Peeled Apple chopped.
It's 1/8 Cup of White Caine Sugar.
Prepare 1/2 of Lemon.
Prepare of 1 Mixing bowl.
For a little extra punch, you might add a splash of coconut rum. In a large salad bowl, lightly stir together the pineapple, cantaloupe, peaches, plums, bananas, oranges, kiwi fruit, apricots, cherries, grapes, and strawberries. A tangy cream cheese dressing makes this refreshing salad special. I've found it's a big hit at potlucks, whether served as a salad or dessert.
Summer Fruit Salad🍓 instructions
Peel and chop apple into chunks of desired size and add to Mixing bowl..
Slice strawberries and kiwi and add to bowl..
Add Blueberries, Raspberries, and Blackberries to bowl..
Add the juice of the 1/2 of lemon to the fruit mixture..
Fold in 1/8th cup of sugar to the fruit mixture until well combined. Cover and set in fridge for 30min. (Lasts two-three days in fridge).
It makes a luscious finale on those sultry summer days when baking is out of the question. —James Korzenowski, Fennville, Michigan Why I Love This Simple Summer Salad Recipe. Most fruit salads that you see online will have a "sauce" or dressing to toss everything in. But honestly, why mess with nature. This fresh fruit salad is perfect on it's own. And when you toss all the ingredients together and get a variety of fruit in each bite you'll agree.