Easiest Way to Prepare Tasty Tropical Fruit Salsa
Tropical Fruit Salsa. Save On Fruit Salsa at Walmart. Try fruit salsa that's easy to make and keeps for a week in your fridge. This recipe for tropical fruit salsa comes from "Martha Stewart's Hors d'Oeuvres Handbook." Save Pin Print.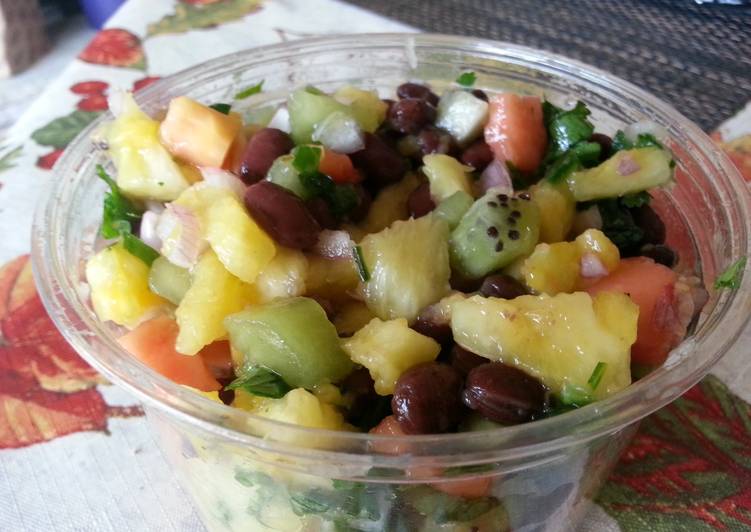 It uses a few different tropical fruits, but feel free to make some changes, replacing with favorite fruits to make it your own. And, if certain ingredients cannot be found, here are some helpful suggestions on the salsa ingredients and substitute fruits Pineapple, mango, kiwifruit, and mandarin oranges are tossed with a zesty dressing in this low-calorie side dish. Made with broccoli and cheddar, this frittata is keto, gluten-free and vegetarian and serves up to four people. You can cook Tropical Fruit Salsa using 7 ingredients and 1 steps. Here is how you achieve it.
Ingredients of Tropical Fruit Salsa
Prepare 1 cup of of chopped mango.
You need 1 cup of of chopped pineapple.
You need 1/2 cup of of chopped passion fruit.
You need 1/4 cup of chopped kiwi.
You need 1/4 cup of chopped cilantro.
It's 1 of seeded and chopped serrano pepper.
It's 1/2 cup of of drained and rinsed black beans.
Coat a broiler pan with nonstick cooking spray. This grilled-to-perfection mahi mahi topped with mango salsa and sprinkled with toasted coconut will have you begging for more. It's sure to melt in your mouth, and earn a place in your heart as the perfect light summer dish. Tropical Fruit Salsa is made with cantaloupe, tomatoes, pineapple, red onion, cilantro, lime juice, and spices.
Tropical Fruit Salsa step by step
Combine all ingredients mix well. Serve with your favorite foods.
Instead of black cod, use any white fish: tilapia, halibut, mahi mahi, sea bass. I've been making a lot of tropical fruit salsa lately. Add the coconut flakes and stir constantly, until the flakes are slightly browned at the edges. Immediately spoon onto a plate to stop the cooking and prevent burning. This Tropical Fruit Salsa is good with chips, on any grilled or roasted meat, fish or poultry, a burger, tacos, and dynamite on a pulled pork sandwich.