How to Make Perfect Moroccan Lamb Stew
Moroccan Lamb Stew. The Winning Spice Mixture to Flavor your Moroccan Lamb Stew. This Moroccan lamb stew uses a blend of different spices and flavor-makers such as cinnamon, allspice, bay leaves, and, what I consider the star spice here, Moroccan Ras el Hanout. Ras el Hanout is a decidedly North African/Moroccan spice blend that includes notes of turmeric, cloves, ginger, cardamom, nutmeg and more!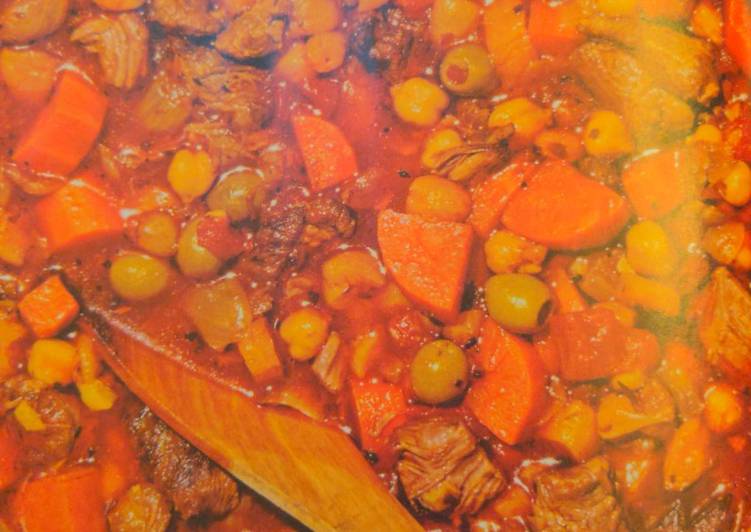 Moroccan lamb stew is sweet, spicy, and fragrant. It's a hearty and filling stew loaded with tender lamb in a harissa spiced sauce. It's the perfect stew to curl up with on a cold day. You can cook Moroccan Lamb Stew using 13 ingredients and 4 steps. Here is how you cook that.
Ingredients of Moroccan Lamb Stew
Prepare 2 TBSP of Canola Oil.
You need 2 lb of Cubed Lamb Stew Meat.
It's 2 of Garlic Cloves (Minced).
You need 1 of Large Yellow Onion (Diced).
It's 4 of Medium Carrots (Diced).
You need 2 Tsp of Ground Coriander.
You need 2 Tsp of Ground Cumin.
You need 1 of Cinnamon Stick.
Prepare 1 (15 oz) of Can of Chickpeas (Rinsed and Drained).
It's 1 Cup of Dried Apricots (Chopped).
Prepare 1/2 Cup of Pimento-Stuffed Green Olives.
It's 1 (15 oz) of Can Diced Tomatoes.
It's 2 Cups of Beef Broth.
If lamb isn't your thing you can substitute beef or chicken. Dust the lamb with the flour. Heat the oil in a large pan and brown the lamb in batches. Moroccan lamb stew is a bold one-pot dish with fragrant and hearty ingredients.
Moroccan Lamb Stew step by step
In a large Dutch Oven on medium high heat, heat oil. Season lamb with salt and pepper and add to Dutch oven. Cook until well browned, 10 – 15 minutes. Transfer to a plate lined with paper towels to drain..
Add garlic, onion, and carrots and saute until onion softens, about 5 minutes. Add the coriander, cumin, and cinnamon stick. Cook until fragrant, about 30 seconds..
Add the chickpeas, apricots, green olives, tomatoes (with juices), reserved lamb, and beef broth. Bring to a boil over high heat, and then reduce the heat to medium low and simmer until lamb is very tender, 60 – 90 minutes. Discard the cinnamon sticks. Taste and adjust seasoning if necessary..
Nutrition per serving: 495 calories, 38g protein, 46g carbs, 10g fiber, 16g fat..
Sweet and pungent spices infuse into tender pieces of meat and vegetables as they slowly cook. Making a stew allows affordable and less tender cuts of meat to transform into a glorious and tender feast. Add lamb and toss to coat. Warm the oil in a large casserole dish over a medium-high heat. Pick and finely chop the rosemary leaves and peel and roughly chop the ginger, then add to a pestle and mortar with the cumin, coriander, fennel seeds and dried chillies.