How to Prepare Yummy Sweet Potato Lentil "Curry"
Sweet Potato Lentil "Curry". Lentil Sweet Potato Curry This is one of those suppers you can start when you get home, then relax while it cooks. (Or help the kids with homework or hop on the stair-stepper.) Apple and brown sugar help sweeten this delicious meatless meal. SWEET POTATO AND LENTIL CURRY INGREDIENTS LIST. Here's what you need to make this Sweet Potato and Lentil Curry… Sweet Potato – I like a bit of a chunkier curry, so I usually dice my sweet potatoes into bite sized chunks.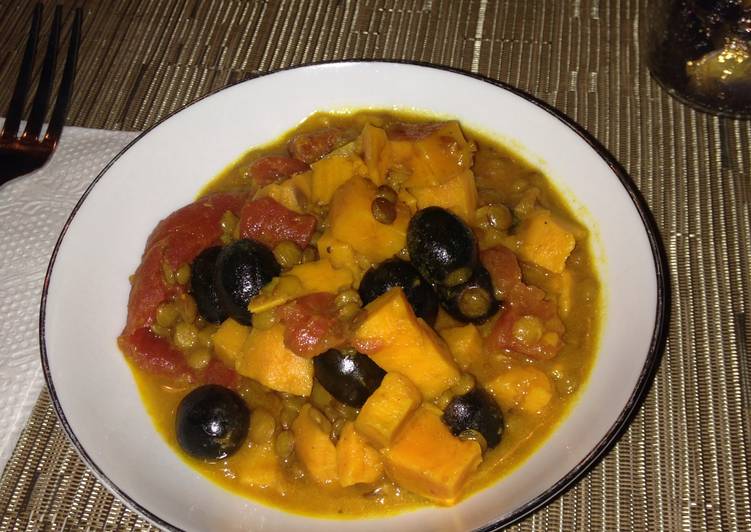 Add salt, coconut milk and cooked lentils if you cooked them separately. Thai inspired Sweet Potato Lentil Curry with Crispy Sesame Chickpeas. The perfect bowl of warming comfort food that's also really healthy. You can cook Sweet Potato Lentil "Curry" using 11 ingredients and 5 steps. Here is how you achieve that.
Ingredients of Sweet Potato Lentil "Curry"
You need 2 large of sweet potatoes.
Prepare 1 can of Black olives.
You need 1 1/2 cup of Lentils.
Prepare 2 can of Coconut milk.
You need 2 can of Chopped tomatoes.
It's 1 tbsp of Dried coriander.
It's 1 tbsp of Turmeric.
It's 1 tbsp of Cumin.
You need 1 tbsp of Ground ginger.
Prepare 1 of Salt and pepper.
You need 1 of Lemon.
Quickly made on the stove (or in your instant pot) in less than an hour. Using good for us ingredients like sweet potatoes, red lentils, Thai curry paste, and creamy coconut milk. Add the lentils, potato, carrot, and spices/seasonings, and stir to combine everything. Add the water or broth and bring to a boil.
Sweet Potato Lentil "Curry" instructions
Preheat oven to 350°F Fahrenheit..
Cut the sweet potatoes into bite size cubes..
Place coconut milk, tomatoes, turmeric, cumin and ground ginger in a large saucepan. Heat until bubbling. Add sweet potatoes, lentils, olives, coriander, and salt and pepper..
Put a lid on the pot and put it in the oven. Cook for about an hour until sweet potatoes are soft..
Squeeze lemon juice over pot of lentils and serve. Can be served over rice..
Add the lentils, stock, salt and browned sweet potatoes to the pot and bring to a boil over high. This creamy vegan curry is made in your slow cooker hands free, includes a generous serving of vegetables (sweet potatoes!), and thanks to the addition of cooling coconut milk, the Indian spices are well balanced for a warm but not overpowering level of heat. Slow-cooker sweet potato, lentil and coconut curry An easy and delicious slow-cooker curry that's great for feeding a crowd, or portioning into the freezer for easy meals This is a fantastic easy curry to make which requires little effort and cooks away beautifully on its own in the slow cooker. Add the ginger, curry powder, garam masala, and turmeric (if using). Add the broth, sweet potatoes, and lentils.