Recipe: Appetizing Cretan Ntakos
Cretan Ntakos. Rusk, Tomato, soft goat cheese "Myzithra", olive oil, oregano and sea salt compose this delicious dish. Dakos/ Ntakos is a traditional Greek salad from the island of Crete. Extra virgin olive oil, juicy tomatoes, salty feta cheese combine to form an amazing, full of mediteranean flavors Greek dish!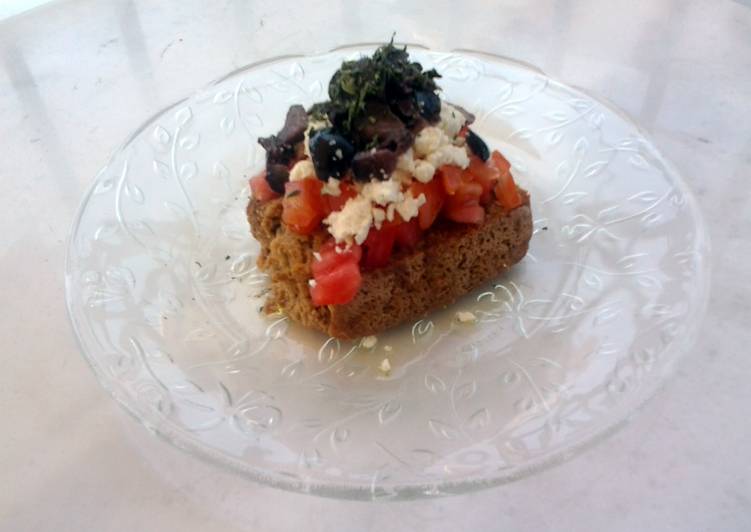 The very first time I heard about ntakos (ντάκος in Greek). Photo "Cretan ntakos" can be used for personal and commercial purposes according to the conditions of the purchased Royalty-free license. The image is available for download in high resolution quality. yummy! You can cook Cretan Ntakos using 6 ingredients and 5 steps. Here is how you cook it.
Ingredients of Cretan Ntakos
It's 4 of ntakos (barley rusks).
You need 1 large of tomato.
You need 8 tsp of extra virgin olive oil.
It's 12 of kalamata olives.
You need 4 pinch of dried oregano.
You need 120 grams of feta cheese (crumbled).
Ntákos, otherwise known as" Koukouvágia" (owl), is a traditional Cretan Food based on barley rusk. On the rusk there is rubbed tomato and the Cretan cream cheese "myzíthra" while the dish is. Creta Maris: Brussels Gets a Taste of Cretan Gastronomy. Crete food is fresh, healthy and tasty find out more in this guide to Cretan food from mezes and Moussaka to pastries and baklava.
Cretan Ntakos step by step
Ntakos should be moist so it needs to be immersed in water for a couple of minutes on both sides..
Chop the tomatos into small cubes and divide on all four rusks..
Sprinkle one teaspoon of extra virgin olive oil on the chopped tomatos. Sprinkle the crumbled feta cheese..
Chop three olives for each rusk and sprinkle them over the chopped tomatos..
And finally, before enjoying the ntakos with a glass of super cool Moschofilero or some tsipouro, you can sprinkle some dried (or fresh) oregano..
Photo about Cretan(greek) typical plate with a slice of roasted barley bread, goat cheese, olives, tomato, herbs and olive oil. Cretan Greek, or the Cretan dialect (Greek: Κρητική Διάλεκτος, [kritiˈci ðiˈalektos]), is a variety of Modern Greek spoken in Crete and by the Cretan diaspora. The Cretan dialect is spoken by the majority of the Cretan Greeks on the island of Crete. Typical Cretan plate called ntakos, a slice of barley bread , cubes of tmato, goat cheese, virgin olive oil and herbs. Download this cretan ntakos stock photo from Megapixl – the best in stock photos, images and footage.