Recipe: Delicious Basil Walnut Pesto
Basil Walnut Pesto. Pesto, or pesto alla genovese, is a vibrant, garlicky green sauce that originated in Genoa, Italy. It is traditionally made with a mortar and pestle, but thankfully most modern versions call for using a food. This Basil Walnut Pesto isn't one of them.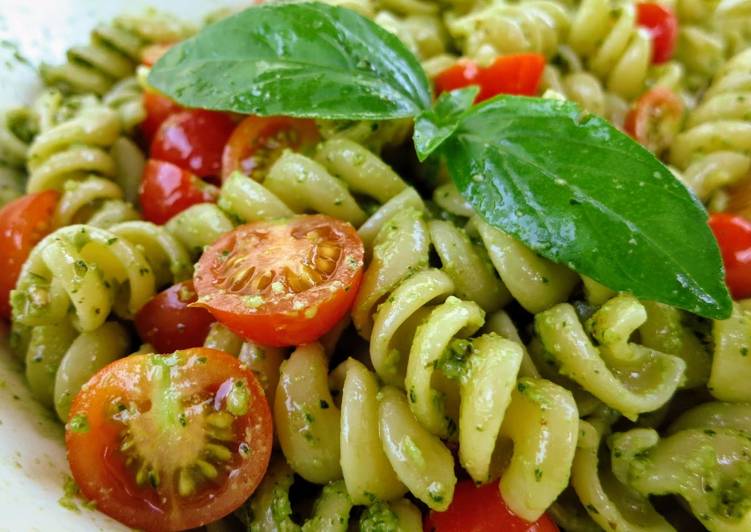 Great for pasta, sandwich spreads, and garnishing soups! Pesto is deceptively easy to make and so tasty, you'll. This Basil Walnut Pesto is chock full of healthy fats, specifically from a superfood nut. You can cook Basil Walnut Pesto using 7 ingredients and 3 steps. Here is how you cook that.
Ingredients of Basil Walnut Pesto
It's 2 of generous cups of packed sweet basil.
It's 1/2 cup of walnuts (raw or toasted is fine – just depends on your preference).
Prepare 1/4 cup of grated Parmesan cheese.
It's 1/4 cup of grated Pecorino.
Prepare 2 of large cloves garlic, peeled.
It's 1/2 cup of extra virgin olive oil.
Prepare 1/2 teaspoon of kosher salt.
I forgot to take a picture. The basil wasn't as processed as I would have liked, but it was still beautiful. This is my favorite pesto recipe; rich but healthy due to "good" fats from olive oil and walnuts. Basil Walnut Pesto. this link is to an external site that may or may not meet accessibility guidelines.
Basil Walnut Pesto instructions
Whiz basil, nuts, and garlic in food processor until they make a coarse paste..
Add in the cheese and oil and whiz a few seconds longer until completely incorporated..
That's it. Enjoy! :).
Basil Walnut Pesto is a super easy, homemade vegan pesto recipe that is perfect with pasta dishes, salads, on chicken and salmon as a sauce or even as a dip! The walnuts give it a creamy base which. A traditional winter pesto made from parsley and walnuts instead of basil and pine nuts. I usually think of pesto as a summer food, given the way the basil takes over in the garden. Along with the awesome warm weather come.