How to Make Tasty Sweet Potato Salad With Chives And Dried Basil
Sweet Potato Salad With Chives And Dried Basil. All Reviews for Potato Salad with Chives. I believe my photo illustrates that using just half the amount of each coated the potatoes nicely with just the right amount of dressing and chives. Quinoa Sweet Potato Salad with Walnuts & Dried CranberriesThe Whimsicalist.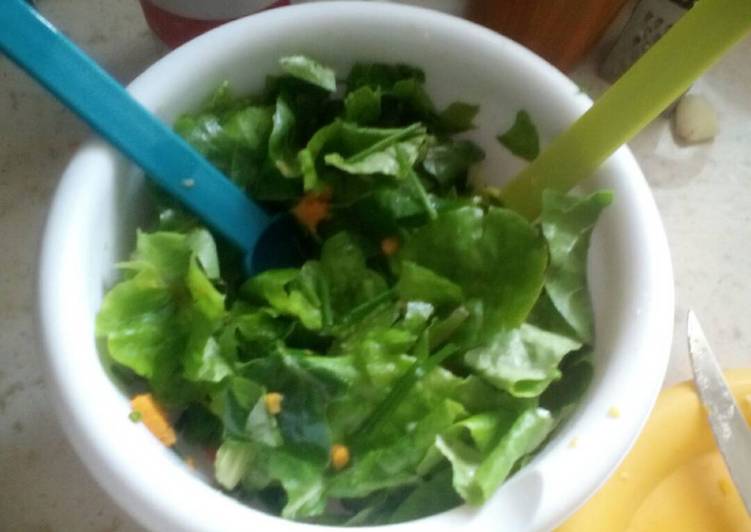 You may be able to find more information about this and similar content on their web site. This delicious and easy potato salad recipe is mayonnaise free and has lots of fresh herbs. This herby salad is naturally gluten free, egg free, and vegan. You can cook Sweet Potato Salad With Chives And Dried Basil using 8 ingredients and 5 steps. Here is how you cook it.
Ingredients of Sweet Potato Salad With Chives And Dried Basil
It's 2 heads of Lettuce.
You need 1 bunch of Spinach.
Prepare 1 bunch of Chives.
You need 1/2 of Sweet Potato.
You need of Olive Oil.
You need 1/2 of Dried Basil Leaf.
It's of Seasoning.
Prepare 1/2 Clove of Garlic.
When it comes to fresh salads, I honestly don't think you can add too many herbs! I usually end up adding parsley, dill, and mint, but basil, chives or. We have potato salads straight from your mama's cookbook, Southern-inspired potato salads, and a Some capers and sherry vinegar give this German potato salad the perfect bite, while bacon and chives give it some much-needed Grilled Potato Salad With Basil, Blue Cheese and Tomatoes. It's dressed with white balsamic vinegar, deeply flavorful sun-dried tomatoes, and fresh chopped basil.
Sweet Potato Salad With Chives And Dried Basil instructions
Steam the sweet potato and cut into cubes..
Tear apart the lettuce and spinach into smaller pieces..
Chop up the chives and toss the sweet potato, spinach, and lettuce into a bowl..
Grate the garlic and season however you'd like..
Drizzle some olive oil and stir well. All Done:).
Delicious salad made with massaged kale, roasted sweet potatoes, dried cherries, crumbled Feta cheese & pepitas. An easy kale and sweet potato recipe! Roasted Sweet Potato Kale and Dried Cherries, Feta & Pepitas. Black quinoa with roasted sweet potatoes, kale, dried cranberries, red onion and tossed with balsamic vinegar. This salad is vegetarian, vegan and I tossed the vegetables and quinoa together and drizzled the salad with balsamic vinegar.