Recipe: Appetizing ♥ Berry Dream Cake. ♥
♥ Berry Dream Cake. ♥. The Berry Cream Cake recipe out of our category tart! Cut cake in the middle of the lower layer horizontally. For the filling: Whip cream with vanilla sugar until stiff, fold in berries and.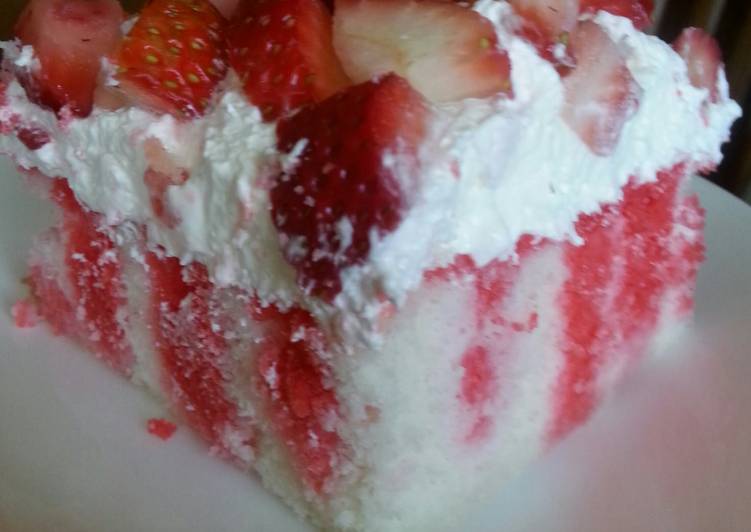 Mercedes Sandoval, Claire King & Hitomi Aihara. Whip the heavy cream and sugar together until the cream is set. Carefully place each layer of cake with cream and berries. You can cook ♥ Berry Dream Cake. ♥ using 6 ingredients and 5 steps. Here is how you achieve that.
Ingredients of ♥ Berry Dream Cake. ♥
You need 1 of pkg. white cake mix.
It's 1 1/2 cup of boiling water.
You need 1 of pkg. ( 3 oz ) cherry jello.
It's 1 of -8 oz. pk. cream cheese- softened.
You need 2 cup of whip topping – thawed.
Prepare 4 cup of strawberries – chopped.
Run knife around edge of pan to loosen cake. Cut each piece horizontally in half. Spoon half of the berries and sweetened whipped cream over bottom cake pieces; cover with top cake pieces. Simple and elegant, this berry-studded layer cake is an ode to spring's fresh produce.
♥ Berry Dream Cake. ♥ step by step
Prepare a 9×13" cake pan . Mix cake mix according to package directions..
In a small bowl. Add boiling water to geletin. Stir 2 min. to completely dissolve..
Cool cake on a wire rack 3-5 min.Using a wooden skewer. Pierce top of cake to within 1" of edge. Twist skewer to make holes slightly larger..
Gradually pour geletin over cake. Being carefull to fill each hole. Cool 15 min. Refrigerate 30 min..
In a large bowl . Beat cream cheese until fluffy. Fold in whipped topping. ( Cool Whip ).Carefully spread over cake.Top with strawberries. Cover & refrigerate at least 2 hours..
Generous swoops of cream cheese-laced whipped cream bring a note of tanginess to balance out the sweet berries. Beautiful three-layer strawberry cream cake for that special occasion. Be the first to rate & review! Strawberries and cream are a culinary rite of spring. Celebrate the ethereal combination by stacking golden cake layers with a whipped cream and cream cheese filing and juicy fresh strawberries.