Recipe: Delicious Blue Cheese Sauce Chicken
Blue Cheese Sauce Chicken. Our favorite blue cheese to use in this blue cheese chicken recipe is the Italian blue cheese Gorgonzola. For cream sauces, Chardonnay can be a good choice. Chardonnay is often described as having a rich, creamy texture that complements creamy sauces.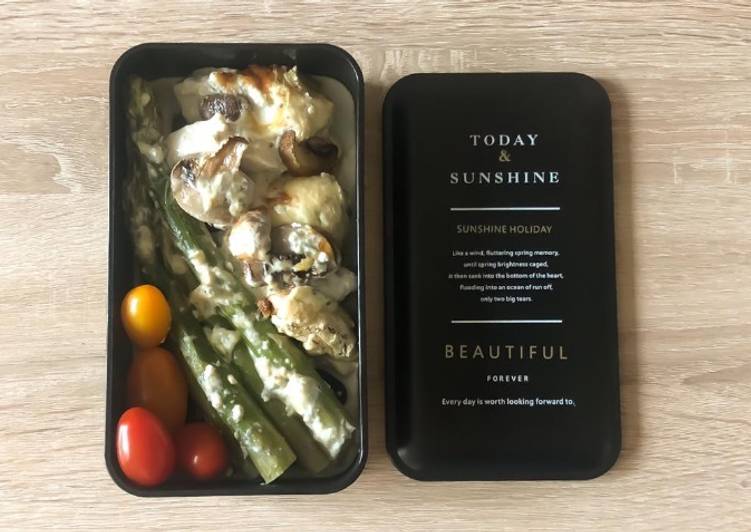 INGREDIENTS: Chicken fillets Salt and black pepper Aromatic herbs (oregano, thyme. Holiday-special in every way, this moist chicken is coated with pecans and drizzled with a rich, blue cheese sauce. It's easy and delicious…a real winner in my book. You can cook Blue Cheese Sauce Chicken using 5 ingredients and 6 steps. Here is how you achieve it.
Ingredients of Blue Cheese Sauce Chicken
Prepare 1/2 cup of heavy cream.
It's 5 oz of dorblu cheese (or any blue cheese).
It's 1 of chicken breast.
It's 1-2 cups of common mushrooms (champignon mushrooms).
Prepare 4-5 oz of asparagus.
You can also use turkey breast and adjust the cook time. —Maggie Ruddy, Altoona, Iowa. Blue Cheese, Chicken Breast, Ham, Dinner, Main Course. Place a sieve over a small saucepan, and strain the sauce, stirring and pushing down with a plastic spatula to press through as much of it as possible. Nestle chicken beside squash and top evenly with sauce.
Blue Cheese Sauce Chicken instructions
Preheat the oven to 392°F.
Place the cream on a burner over medium heat and add small pieces of cheese (2-3 oz). Stir constantly to let the cheese dissolve (do not bring to boil).
Meanwhile slice the chicken with long, even strokes into slices about 1/4-inch thick.
Chop mushrooms.
Place chicken, mushroom and asparagus into a baking dish and pour the cheese the cheese sauce on top. Place on top small pieces of the left cheese.
Bake for 30-35 minutes until ready.
Pungent blue cheese balances out the sweetness of dates in this meal-worthy salad made with a combination of baby spinach and arugula. To make the blue cheese sauce, combine the ingredients in a small food processor and blitz until combined. To assemble the sliders, top the toasted buns with the lettuce and a generous spoonful of the shredded buffalo chicken then drizzle over the blue cheese sauce. For blue-cheese sauce, process cheese, buttermilk and mayonnaise in a food processor until smooth. Season well with black pepper, then stir in chives.