Recipe: Delicious Wasabi Avocado Fries
Wasabi Avocado Fries. Crunchy outside, creamy inside, our fried avocado wedges are given a zesty edge with wasabi-lime dipping sauce. Preparing and baking avocado fries is a simple process that only requires a few ingredients and steps. These delightful bites of avocado bliss are actually healthier for.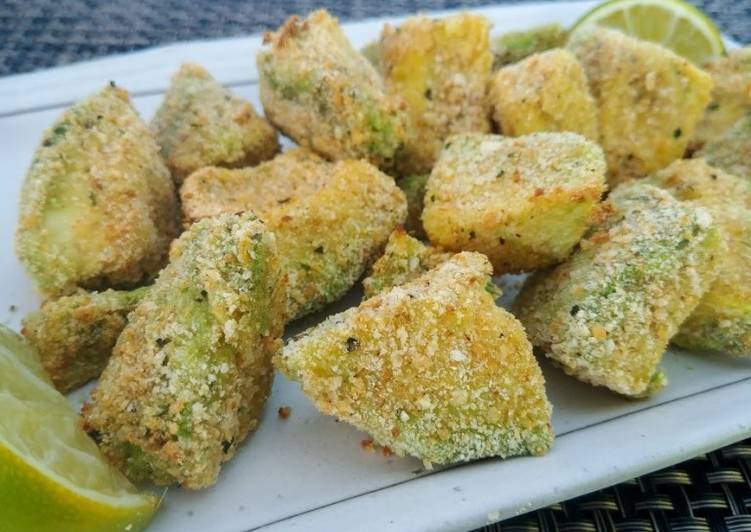 For the avocado-wasabi sauce ½ avocado ¼ or ½ teaspoon wasabi paste, (or to taste depending on your spice preference) Order baked tempura rolls online from Wasabi Hinkaku (Downtown) – Wichita for takeout. The perfect avocado for avocado fries will give very slightly to pressure and be green underneath the stem or cap. It should not be mushy at all. You can have Wasabi Avocado Fries using 6 ingredients and 6 steps. Here is how you cook it.
Ingredients of Wasabi Avocado Fries
Prepare 1 of avocado pitted and diced.
You need 1 of egg.
Prepare 1 1/2 Tablespoon of wasabi paste or to taste.
It's 1/2 teaspoon of salt.
Prepare 1/2 cup of breadcrumbs or Japanese panko.
It's of Lime wedges optional.
Why You Should Use an Air Fryer For Avocado Fries. As I said, I do love a creamy avocado. But sometimes I want a little crunch and this recipe delivers it every time. To make the wasabi sauce, combine the wasabi paste and heavy cream in a small saucepot.
Wasabi Avocado Fries instructions
Put the breadcrumbs in a Ziploc bag and set aside..
In a medium bowl, use a whisk to mix the egg, wasabi paste, and salt until homogenous..
Put all the avocado chunks in the egg mixture to coat..
Carefully transfer the avocado into the bag. Shake the bag to coat the avocado with breadcrumbs..
Place the avocado pieces into the fryer basket, spray them with some oil and air fry at 400F (200C) for about 3 minutes..
Squeeze some lime juice to serve..
You can't say no to anything wrapped in bacon. Slice the avocados in half, and then slice lengthwise into wedges. Mix the bread crumbs with the cayenne pepper and salt. Sushi rice ∙ fried prawn ∙ avocado ∙ Japanese Omelette ∙ Sesame seeds ∙ seaweed. Chopped savoury toppings piled on top of sushi rice, secured by a nori seaweed.