Recipe: Tasty Apple Baked Brie
Apple Baked Brie. As family arrives for a get-together, I make sure this fruity and savory Brie is in the oven so the aromas of cinnamon and apples fill the house. —Alicia Gower, Auburn, New York. Make Thanksgiving happy hour extra special by serving this baked Brie appetizer topped with maple caramelized apples and spiced praline bacon. Remove from the oven, serve hot with crackers or toasted bread rounds and watch.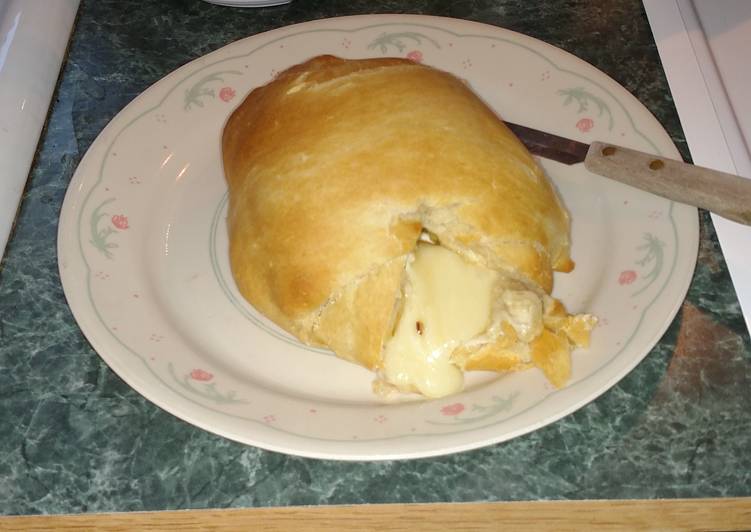 This Apple Pie Baked Brie, topped with apple pie filling, chopped pecans, and caramel, and then baked inside crescent roll dough is elegant and still ooey gooey. Baked Apples with Brie and Honey. Take some of your favorite ingredients from a cheese plate—brie, honey, and apples—and turn them into a baked snack or dessert. You can cook Apple Baked Brie using 6 ingredients and 2 steps. Here is how you cook it.
Ingredients of Apple Baked Brie
Prepare 1 packages of crescent roll sheet dough.
You need 1/2 of apple, thinly sliced.
You need 1/4 cup of brown sugar.
Prepare 8 oz of brie cheese round.
You need 1/4 cup of chopped pecans.
It's of crackers ( I used cinnamon sugar pita crackers).
La Brea Bakery's Baked Brie & Apple Grilled Cheese recipe is the perfect blend of flavor for a yummy treat! Slide the baked Brie onto a serving dish and top with the apple mixture, followed by the bacon. Surround with baguette slices, crackers and/or apples, and serve immediately. Baked brie is a classic appetizer, party-goers love for its melted, gooey goodness.
Apple Baked Brie step by step
Pre heat oven to 350°. Unroll crescent roll dough. Place cheese in the middle of the dough..
Place sliced apples on top of cheese. Top with brown sugar and pecans. Wrap dough around cheese, trimming excess. Bake for 20-25 minutes until golden brown..
Take this traditional recipe up a level with an easy-to-make caramel. This Baked Brie Apple Pie is the perfect marriage of a sweet Baked Brie and Cheddar Cheese Apple Pie… but without the cheddar! If you've never tried a little cheese in your dessert, it's time to dive in. Baked brie is seriously one of my favorite things in the world, and with apples, pecans, and puff pastry…it's ridiculously delicious! Cheese is my ultimate food vice, especially melted cheese.