How to Cook Perfect Crunchy Turkey-Brie Panini
Crunchy Turkey-Brie Panini. Alternatively, if using a panini maker, preheat the panini maker. Notes *To make cranberry sauce: In a small sauce pan, bring sugar and water to a boil. Add cranberries, orange zest, and cinnamon sticks.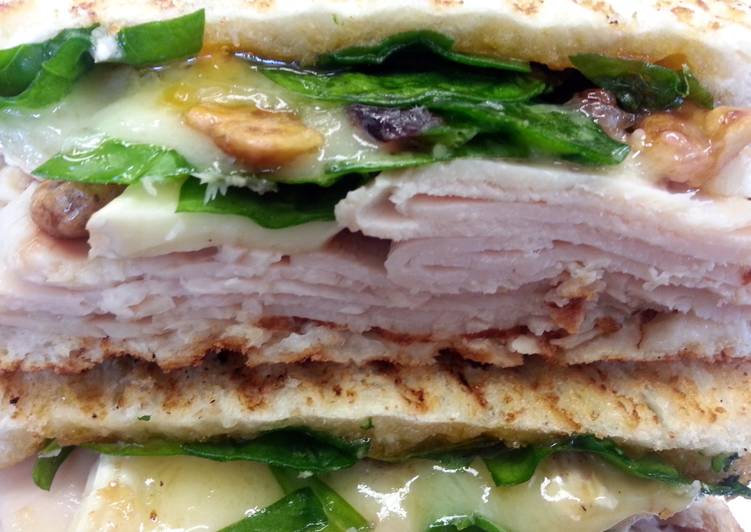 Start building the sandwich by layering one slice of bread with mustard, turkey, brie, apples, and jam. Season with salt and pepper before enclosing the sandwich with the other slice of bread. See great recipes for Turkey, Brie & Apple Pockets too! You can have Crunchy Turkey-Brie Panini using 8 ingredients and 2 steps. Here is how you cook that.
Ingredients of Crunchy Turkey-Brie Panini
It's 8 slice of roasted turkey breast.
You need 4 slice of brie cheese.
Prepare 2 slice of country white or Italian bread.
You need 1 tbsp of mayonnaise.
You need 1 tbsp of apricot preserves.
It's 1 tbsp of crushed walnuts.
It's 1 tbsp of dried cranberries or raspberries.
You need 1/2 of handful spinach.
Butter the outsides of the bread or heat butter in a nonstick skillet, a griddle or panini press until sizzling. It's packed with fresh turkey, granny smith apples, creamy brie cheese and then toasted until golden. Simple, fast, and bursting with flavor, this sweet and savory combo makes a delicious lunch or dinner! Home » Recipes » Dish Type » Main dish » Turkey Recipes » Leftover Turkey, Cranberry & Brie Panini: Holiday dinner leftovers are the best!.
Crunchy Turkey-Brie Panini instructions
Layer all ingredients with mayo on the bottom. Spray sandwich and panini press with non-stick cooking spray. Turn sandwich once, not flip, to get criss cross ridges..
Variations; Pecans, bacon, sage, watercress, arugala, pesto, honey mustard, horseradish, swiss, parmesan, gruyere, mozzarella, smoked gouda, vinegar, hollandaise, nutmeg, brown sugar, aioli, marinated or roasted peppers/tomatoes, parsley, spicy mustard.
Leftover Turkey, Cranberry & Brie Panini: Holiday dinner leftovers are the best! Turkey Apple Brie Panini Female Foodie. Heat panini maker to medium high (see note if you don't have a panini maker) Brush one side of bread slices with olive oil (this will be the outside) Lay bread slice oil side down on work surface. Layer with turkey, then cranberry sauce, then cheese, then bacon. Season chicken with oregano, red pepper flakes, salt and pepper.