How to Make Perfect Pumpkin red lentil stew – baby good
Pumpkin red lentil stew – baby good. Pumpkin, Chickpea, and Red Lentil Stew. I was thinking along the lines of a thick soup / stew. We're not vegetarians, but you could use this as a main meal, or as a side dish with something else.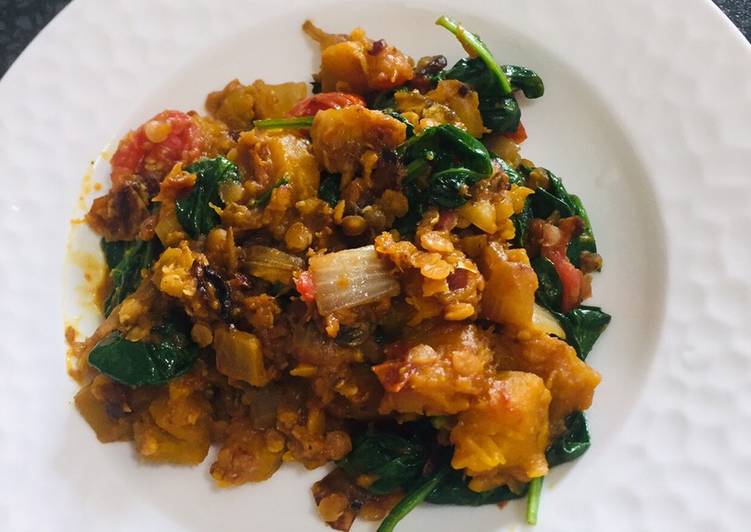 The chickpeas will be our main protein. Fresh chickpeas are hands down the best in flavor and color. Curry Red Lentil Stew with Kale & Chickpeas. You can have Pumpkin red lentil stew – baby good using 8 ingredients and 3 steps. Here is how you cook it.
Ingredients of Pumpkin red lentil stew – baby good
Prepare of Salt.
Prepare of Cooking oil.
Prepare of Red lentil.
It's of Anchovies.
You need of Spinach.
Prepare of Pumpkin.
Prepare of Big onion.
You need of Tomato.
Red or yellow lentils are best for this soup because of their mild flavor and the fact that they break down quickly when cooked, giving the soup a nice This super fast and easy Curried Red Lentil and Pumpkin Soup is soul warming and flavorful. Inexpensive, vegan, flavorful, filling, and customizable! There is nothing better than a warm, filling bowl of stew on a cold day. Fill up your senses and belly with this delicious Ethiopian Stew.
Pumpkin red lentil stew – baby good step by step
Prep all your ingredients as below.
Heat your wok and cooking oil then fry anchovies,big onion and tomato.leave it for 2-3m until fragrance..
Then add in pumpkin,red lentil and abit if water.mixed well then leave it for 5m u til pumpkin and lentil soft n cook. Then add in spinach. And salt.done… it is delicious. And yummy perfect for your pasta sauce too..
A healthy and hearty chicken stew full of pumpkin flavours and lentils to warm your heart. This fulfilling dish has all the magical elements: lentils; pumpkin; chicken; potatoes; spinach; all And from my childhood to you, I present the best stew you will have have in your life (besides your mums). I made the stew Friday night and baked it Saturday. It came out wonderful and the leftovers just got better and beter. Served with a crusty french bread to complete!