Recipe: Tasty Cheddar Pierogies in the Crockpot (Easy)
Cheddar Pierogies in the Crockpot (Easy). Crockpot Pierogi Casserole has been a family favorite for years. If you love quick and easy recipes that are packed with flavor, this will quickly become one of your family favorites as well. Pillowy pierogies, cooked in a flavorful cream sauce with tender.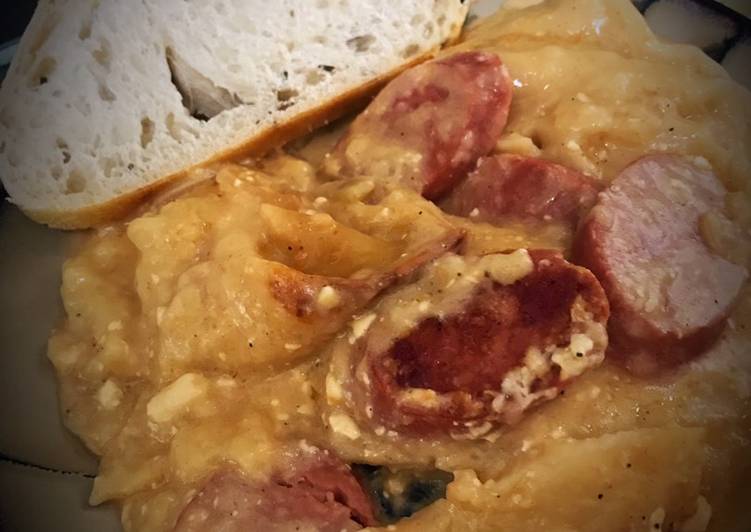 Check out how it's made and let me know what you think. This easy Crock Pot Pierogie recipe has only a few simple ingredients and hardly any hands on time. Pierogi are filled dumplings of Central European origin, made by wrapping unleavened dough around a savory or sweet filling. and cooking in boiling water, or pan-frying. You can have Cheddar Pierogies in the Crockpot (Easy) using 8 ingredients and 2 steps. Here is how you cook it.
Ingredients of Cheddar Pierogies in the Crockpot (Easy)
Prepare 36 of frozen cheddar Pierogies.
It's 1 lb. of smoked kielbasa, sliced.
Prepare 4 cups of chicken broth.
You need 8 oz. of block of cream cheese.
Prepare 1 1/2 cups of shredded cheddar.
Prepare 1/2 of Vidalia onion sliced into thin rings.
Prepare to taste of Salt and pepper.
Prepare Loaf of crusty bread.
The Best Crock Pot Pierogies Recipes on Yummly T's Cheddar Pierogies – Regular or mini. Place frozen pierogies in the crockpot. In a medium saucepan, melt butter and fry onion on medium-low heat, until onion is golden brown.
Cheddar Pierogies in the Crockpot (Easy) instructions
Place all ingredients together in a crockpot and cook on low for 6 hours or on high for 4 hours..
Serve with a loaf of Italian bread..
Pour onion and butter over pierogies; add salt and pepper. A few times during cooking, use tongs and gently re-arrange pierogies and ladle. Don't be deterred by the number of steps in the recipe — there's nothing difficult going on here. There are some people who adamantly believe that the plural "pierogies" is incorrect and that "pierogi" is the only accurate term for both singular and multiple dumplings. Tailgate CrockPot Pierogies with Kielbasa, Bacon, and Onions is one of my tailgating recipes!