Easiest Way to Make Perfect Sweet Onion and Cheddar Pie
Sweet Onion and Cheddar Pie. I would describe this Sweet Onion Turkey Cheddar Pie as a cross between a pot pie and a quiche – although you won't really notice the eggs in the filling because it's so loaded up with sweet onions and turkey. This delicious pie has a buttery cracker crumb crust and is stuffed with sweet onions. It is superb along side any barbequed meat — especially pork.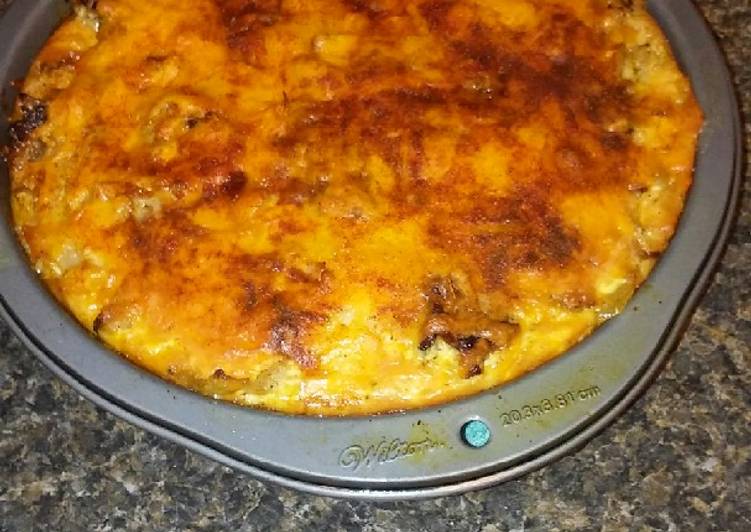 Loaded with sweet onions, this creamy pie makes a scrumptious addition to the brunch buffet. By using less butter to cook the onions and substituting lighter ingredients, I cut calories and fat from the tasty dish. —Barbara Reese, Catawissa, Pennsylvania. This pie is best used with sweet onions. You can have Sweet Onion and Cheddar Pie using 11 ingredients and 7 steps. Here is how you cook that.
Ingredients of Sweet Onion and Cheddar Pie
Prepare 1 1/2 cups of crushed ritz crackers.
It's 2-3 of sweet onions.
You need 4-5 strips of bacon.
Prepare 2/3 stick of butter melted(for crust).
Prepare 2 tbsp of butter(to cook onions).
Prepare 1 cup of cheddar.
Prepare 2 of eggs.
You need 3/4 cup of milk.
You need 3/4 tsp of salt.
Prepare Dash of pepper.
Prepare 1/4 tsp of paprika.
I use Vidalia onions because that is what my mom always used. But, any sweet onion should work just fine. Spread the onions in the pie crust. Try to ensure it is an even layer.
Sweet Onion and Cheddar Pie step by step
Mix ritz crumbs and melted butter and press into a 8" pie pan.
In a large pan cook bacon..
Remove bacon and cook onion in the same pan with butter until transparent..
Stir in crumbled bacon and pour into pie pan over ritz crust..
Mix eggs, milk, salt, and pepper together and pour over onions. Sprinkle with cheese, and paprika..
Bake at 350° for 30 min..
Serve hot..
Pour in the whisked egg/milk mixture. Top with grated cheddar cheese and sprinkle. Who says delicious pies can only be served for dessert? This savory Sweet Onion Turkey Cheddar Pie is fantastic! Savory Irish Potato Pie Recipe – Crispy crust layered with potatoes, onions and bacon.