How to Make Delicious Lee's Chicken, Broccoli, Rice, Cheese Casserole
Lee's Chicken, Broccoli, Rice, Cheese Casserole. Start Your Day Right With Our Cheesy Brunch Casserole. Use Our Step-By-Step Guide To Cook Simple and Delectable Meal Plans. This is a delicious twist to broccoli, rice, and cheese casserole, and is VERY easy to make.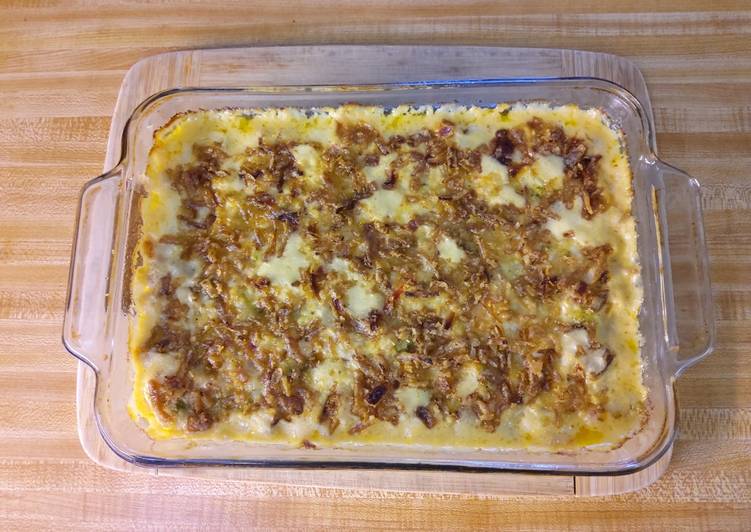 It just gives it a little added flavor, but is still very good without it. Tips for making the best Chicken Broccoli and Rice Casserole: As with any rice dish, the liquid will be soaked up by the rice. Make sure you have enough milk added in the beginning to make a soupy, milky casserole before stirring in the cheese, broccoli and chicken. You can have Lee's Chicken, Broccoli, Rice, Cheese Casserole using 15 ingredients and 3 steps. Here is how you cook it.
Ingredients of Lee's Chicken, Broccoli, Rice, Cheese Casserole
You need of Preheated 350 Degree Oven.
You need 2 Tablespoons of Olive Oil.
Prepare 2 Tablespoons of Butter.
Prepare 1/2 of Onion Medium Dice.
Prepare 2 Cups of Broccoli Florets.
Prepare 2 Cloves of Minced Garlic.
Prepare 2 Cups of Shredded Chicken.
Prepare 10 Ounces of Chicken Broth.
You need 1 Can of Cream of Chicken Soup.
You need 1 Cup of Precooked Cooked White Rice.
Prepare 1/4 Cup of Mayonnaise.
You need 1 of Small Can Rotel Tomatoes "drained".
You need to Taste of Salt & Pepper.
Prepare 1 of &1/4 Cup Shredded Cheese "Your Choice".
It's 1/2 Cup of French Fried Onion Pieces.
Use small pieces of broccoli that will cook in a short time. Mix in the instant rice, cover, and remove it from the heat. Casseroles are the perfect weeknight meal and we just happen to LOVE them around here. Our very favorite casserole recipe is this Chicken and Rice Casserole and it's one of the most-requested meals from both the boys and Chris – they just can't get enough of it!.
Lee's Chicken, Broccoli, Rice, Cheese Casserole instructions
Melt olive and butter together over medium high heat, in a large deep skillet. Add onion and broccoli florets. Saute until broccoli reaches your desired tenderness. Around 10-15 minutes. Add in minced garlic at the very last minute..
Next add shredded chicken, chicken broth, cream of chicken soup, precooked rice, mayonnaise, rotel tomatoes, and shredded cheese. Turn heat down to medium and cook just until the cheese melts, and the mixture all comes together. Add salt and pepper to taste..
Pour mixture into a 8 x 11 glass dish. Top with crumbled french fried onions. Bake at 350 degrees for 30-35 minutes, until golden brown and bubbly. Let cool for 20 minutes. Serve and enjoy!.
I decided to mix it up a bit last night and after spotting the gigantic bag of broccoli in. Start by cooking the rice as instructed and set to side. Baked chicken or sautéed on the stove would be delicious too. You will need about three cups of diced chicken so two breasts usually work. The measurement doesn't have to be exact either.