Recipe: Tasty Cheese balls
Cheese balls. Delight your guests with our creamy Cheese Ball recipe. Cheese balls are a fun, crowd-pleasing appetizer for holiday get-togethers. In sweet or savory flavors, make a cheese ball recipe from this collection to get the party started.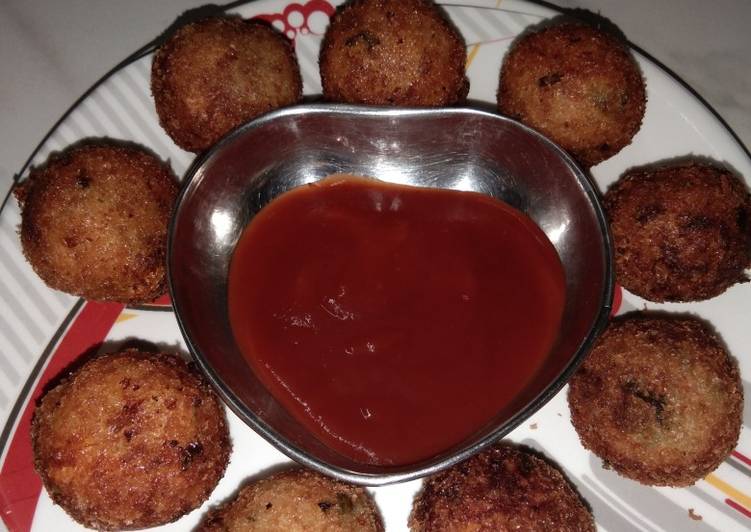 Cheese balls recipe – These delicious crispy potato cheese balls make an awesome party snack. These are flavorful, addictive and will be loved by kids and grown ups alike. Cheese balls can be made in many different ways. You can have Cheese balls using 9 ingredients and 7 steps. Here is how you cook that.
Ingredients of Cheese balls
Prepare 3 of medium Potatoes, boiled (250 gms.
It's 100 gms of Mozzarella Cheese or Cheddar Cheese.
Prepare 3 tablespoons of finely chopped Capsicum, optional.
You need 1/2 teaspoon of Red Chilli Flakes.
You need 1/2 teaspoon of Pizza Seasonings (or dried Italian herbs).
It's 1/4 teaspoon of Black Pepper Powder1/2 teaspoon grated Garlic(or pa.
Prepare 2 tablespoons of BreadcrumbsFor Coating.
It's 2 tsp of Maida cornfloyr.
You need tablespoons of Cornstarch (cornflour)1/4 cup Water (or as needed)1/.
The recipe shared here is super quick to make and the cheese balls can be deep fried, pan fried or even baked. You can serve these without any dip, sauce or chutney as they. Cheese balls and bites are the perfect party appetizer—they're easy to make and feed a crowd. I made this cheese ball for my christmas party and everyone just loved it!
Cheese balls step by step
Boil the potatoes until soft. Don't boil them until soggy or mushy else the mixture will turn sticky in step-6. Peel them and add to a large bowl..
Either mash them or grate them using a grater. Add 3 tablespoons finely chopped capsicum, 1/2 teaspoon red chilli flakes, 1/2 teaspoon pizzaseasonings (or dried Italian herbs) and 1/4 teaspoon black pepper powder, 1/2 teaspoon grated garlic(or garlic paste), 2 tablespoons breadcrumbs, and salt (add only if not added while boiling the potatoes)..
Mix well. Check the mixture for salt and add more if required. Take 2 tablespoons cornstarch (white corn flour) and 2 tablespoons maida (all purpose flour) in a small bowl. Add water(approx. 1/4 cup) little by little and mix well to make a medium thick paste. Cut the cheese into 10 small cubes (approx. 1/2 inch thick and 1 inch wide). Divide the mixture into 10 equal portions. Take one portion and give it a shape like a ball..
Press it between your palms to flatten it. Place a small cube of cheese in the center..
Wrap it from all the sides and give a shape of a ball again. Make sure that the cheese cube is covered well from all the sides. Take 1/2 cup dry breadcrumbs in a plate. Take each ball and roll it in breadcrumbs..
Set all the breadcrumbs coated balls aside in a plate and fry all balls..
Do the same process for all the balls. (You can store them in a ziplock bag in the freezer, they stay good up to 1 month.).
I would advise not using the whole packet of ranch mix to salty. I used all but a tablespoon turned out perfect. My mom made this cheese ball and served it. She had gotten the recipe from someone at work after she tried there at an office party. It was a really big hit.