Recipe: Tasty Creamy Chickpea Potato Curry
Creamy Chickpea Potato Curry. This is a healthy vegetarian meal served with rice and flatbread. This easy curry made in one pot and full of chunky potatoes and plump garbanzo beans, is currently my comfort food. Joe Wicks creamy chickpea curry loaded sweet potato is especially a great one to go for, as it will suit everyone round the table.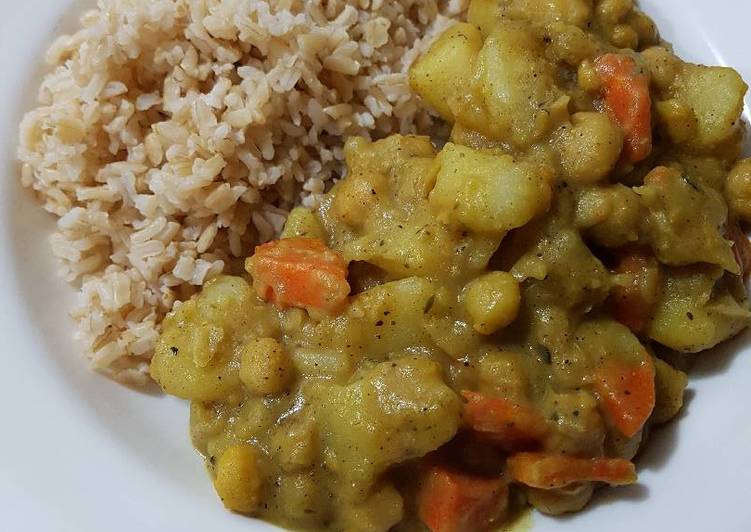 Try it once and you'll be hooked! My sister gave me this recipe. I don't know where it came from but I'm glad she did! You can have Creamy Chickpea Potato Curry using 12 ingredients and 7 steps. Here is how you achieve it.
Ingredients of Creamy Chickpea Potato Curry
It's 1 of onion, diced.
Prepare 1 can of chickpeas, drained.
You need 1 can of coconut milk.
You need 3 of large potatoes, medium dice.
It's 1 of large carrot, diced small.
It's 3 tsp of mild curry powder.
You need 1 tsp of garam masala.
It's 1/2 tsp of tumeric.
It's 1/2 tsp of ground cardamom.
Prepare 1/4 tsp of cayenne.
You need to taste of Salt and pepper,.
It's 1 tbs of olive oil.
Serve over a bed of rice. Add curry powder, chilli flakes, stock, soy sauce, maple syrup and tomato puree and stir. Add potatoes and carrot; cover pot and bring to the boil. Immediately reduce heat to a simmer and leave lid ajar.
Creamy Chickpea Potato Curry step by step
Heat oil in deep-ish skillet and sautee onion until soft..
Add your dried spices and mix together and cook for about 3 min..
Add your potatoes and carrots and cook another 2-3min ***note: I uded yukon gold because they break down and "mash" a bit as they cook.
Add your chickpeas and coconut milk and bring to boil and cook for 5-8min on high..
Turn the heat down to medium-low and place a cover on the skillet slightly vented open to let steam out.
Cook for 30-35min and serve once everything is thick and some of the potatoes have mashed into deliciousness..
Serve with brown rice or naan or my fave :WRAP THAT UP IN A ROTI!!!!.
Top it off with cashews, red chillies and a sprinkle of coriander for plant-based, Indian fusion at it's best," says Joe. Pre steam diced potatoes and set aside. Add garlic and gently fry for two minutes. Caribbean chickpea and potato curry or chana aloo masala is a healthy vegan curry typically served over rice. It's a family-friendly recipe, so easy to make, and ready in under half an hour!