Recipe: Delicious Veggie Quinoa Bowl w/ Spiced Chickpeas
Veggie Quinoa Bowl w/ Spiced Chickpeas. Vegetable harvest bowls built on farm-frozen, organic fruits and vegetables. Get back to good habits with vegetable harvest bowls by Daily Harvest. Garnish with fresh cilantro if desired, and serve.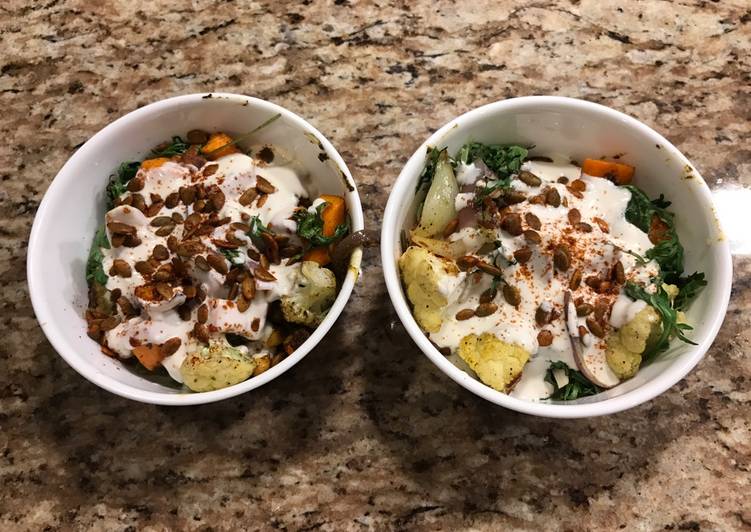 Top with a little cilantro and enjoy! A complete meal in a bowl for lunch is always something I adore. This veggie bowl is packed with proteins, fibers, carbohydrates, vitamins, and minerals. You can cook Veggie Quinoa Bowl w/ Spiced Chickpeas using 19 ingredients and 11 steps. Here is how you cook it.
Ingredients of Veggie Quinoa Bowl w/ Spiced Chickpeas
It's 1 can of chickpeas.
It's 1 of large sweet potato.
You need 1 cup of cauliflower.
It's 2 of garlic cloves.
It's 1/2 cup of red onion.
It's 2 cups of baby kale.
Prepare 4.3 oz of non-fat greek yogurt.
Prepare 1 tbsp of tahini paste.
You need 1 tsp of maple syrup.
It's 1 tbsp of paprika.
It's 1 tbsp of cumin.
You need 1 tsp of garlic powder.
You need 1 tsp of tumeric.
Prepare 1 dash of oregano.
Prepare 2 tbsp of roasted pumpkin seeds.
Prepare 2 cups of cooked quinoa.
You need 1 of lemon.
It's 5 tbsp of olive oil.
Prepare to taste of salt and pepper.
Quinoa and chickpeas (also called garbanzo beans) give two different nutty flavors that come together adding interest and activity in the mouth. Read honest and unbiased product reviews from our users. This bowl is loaded with healthy foods! Quinoa, Sweet Potatoes, Apples, Tomatoes, Chickpeas, Greens, Pumpkin Seeds… I love sweet potatoes and apples together.
Veggie Quinoa Bowl w/ Spiced Chickpeas step by step
Preheat oven to 425°F.
Drain and rinse chickpeas and set aside.
Crush and finely chop garlic. And cut lemon in half and set aside..
Place chopped sweet potatoes and cauliflower in roasting pan. Season with salt and pepper as desired. Drizzle 2 tbsp of olive oil over vegetables and toss..
Place roasting pan into oven for 12 minutes..
While veggies are roasting, place yogurt, maple syrup, tahini paste, garlic, and half the lemon in a bowl. Mix well..
Take roasting pan out of oven after timer has gone off. Add onion and mix vegetables, and cook for another 10 minutes..
Place pan over medium heat. Add 1 tbsp olive oil, chickpeas, cumin, paprika, garlic powder, turmeric, and oregano. And mix well. Sauté for 3-4 minutes. Keep stirring to keep spices from burning. Remove from heat and keep warm..
Heat quinoa in microwave for 90 seconds. Then add other half lemon, and 2 tbsp of olive oil. Salt and pepper to your liking..
Take roasting pan out of oven after timer has gone off. Add kale to pan and toss, and cook for 2 more minutes..
Divide vegetables and chickpeas into bowls and top with yogurt sauce. Sprinkle with pumpkin seeds. And serve..
The combo is sweet with a little hint of tart and reminds me all things fall. I added some chili powder, smoked paprika, and cinnamon to spice up the natural flavors of the fruit and. Roasting is the superstar of this. Top each with fresh basil/ and or basil vinaigrette, if desired. Didn't have broccoli rabe, roasted carrots and cauliflower w/ the sweet potato, put all that w/ the chickpeas over fresh spinach, so it was like a warm salad.