Falafel. Falafel is a deep-fried ball or patty that is made from chickpeas or fava beans and spices. Falafel is a traditional Middle Eastern food, commonly served in a pita, which acts as a pocket, or wrapped in a flatbread known as taboon; "falafel" also frequently refers to a wrapped sandwich that is. * Falafel plates – with tabbouleh and/or shredded iceberg lettuce with tomato slices, onion (red or white), Tahini Sauce with optional hummus with pita breads on the side. A spiced pilaf like Mejadra (Middle Eastern Lentil Rice) is a terrific addition as well (and GF option).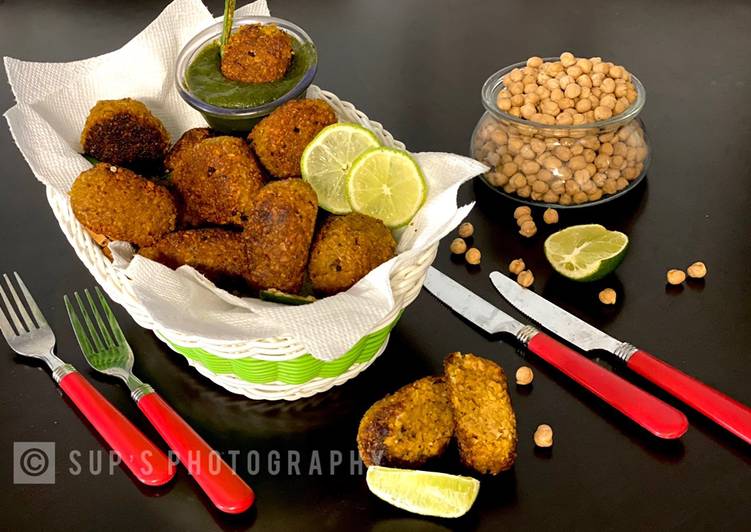 This is sure to become a family favorite! Peanut or vegetable oil, for frying. Think of fritters or pancakes and you get the idea. You can have Falafel using 13 ingredients and 8 steps. Here is how you achieve that.
Ingredients of Falafel
You need 2 of cups- Dried chickpeas soaked overnight and drained.
It's 1 of large – onion chopped.
You need 1 cup of – Chopped Coriander leaves.
It's 1/2 cup of – Chopped Parsley.
It's 5-6 of no – Garlic pods.
It's 4-5 of no – Green Chili.
It's 1 tsp of – paprika powder.
You need 1 tsp of – Crushed black pepper.
Prepare 1.5 tsp of – Cumin Powder.
You need 1 tsp of – Coriander Powder.
You need 1 tsp of – Baking Powder.
Prepare to taste of Salt.
Prepare 1 cup of or as needed – Vegetable oil.
Falafel is a popular Middle Eastern "fast food" made of a mixture of chickpeas (or fava beans), fresh herbs, and spices that are formed into a small patties or balls. It's thought that falafel originated in Egypt as Coptic Christians looked for a hearty replacement for meat during long seasons of fasting or lent. Falafel is a traditionally Arab food. The word falafel may descend from the Arabic word falāfil, a plural of the word filfil, meaning "pepper."These fried vegetarian fritters are often served along with hummus and tahini sauce (known as a "falafel plate.") They're also great served with toum, a Middle Eastern garlic sauce.
Falafel instructions
Pour the chickpeas into a bowl and add enough water into it soak them for overnight..
Drain and rinse the Chickpeas and add them in to the food processor..
Add Coriander leaves,Parsley leaves,Onion Garlic pods,Green chili,paprika powder,Crushed Black pepper,Cumin powder,Coriander Powder,salt to taste along with chickpeas in to the food processor..
Now blend all the ingredients together until well combined but don't make it completely smooth paste (the texture should be looks like uneven)..
Now Transfer the mixture in a bowl add baking powder and give a nice mix with a spatula/ Hand.Now Cover the bowl and refrigerate it for 1-2 hours..
Now using your hands or scoop or spoon from the Chickpeas mixture gently shape it into balls or patties..
Now heat the oil in a pan or wok,transfer 5-7 falafel balls or patties (fry the falafel In 2-3 batches,don't fry them all together) into it,flipping them as needed,fry them until both sides turn into golden brown.In the same process fry all of those falafel..
Now transfer them in a paper towel lined plate.And serve it warm with humus and a side of pita bread..
So just what is the history of this tasty little fritter? Make some falafel for an easy, and satisfying veggie lunch. These Middle Eastern chickpea patties are delicious in burgers, pittas, wraps, salads and more. Serve falafel as an appetizer, wrap it into a pita sandwich, or add it to salad for a protein-rich topping. Falafel goes great with any of the following ingredients: Pita bread, warmed or toasted (tear it up for pita "croutons") Fresh greens (such as spring greens or chopped romaine) Tomatoes, sliced; Bell peppers, cut into strips Falafel sandwiches/wraps: Typically made with pita or a large wrap tortilla, then filled with lettuce, tomatoes, veggies, maybe feta cheese and some sort of sauce (tzatziki, tahini sauce, baba ganoush or hummus) Falafel salads: Crispy falafel make a great addition to salads!