Easiest Way to Make Tasty Corn Chowder
Corn Chowder. Enjoy Our Deliciously Crafted Well Yes!® Sweet Potato Corn Chowder Today. Buy Healthy Food, Vitamins, Supplements, Personal Care and More at Vitacost®! Most Made Today Classic Slow Cooker Corn Chowder.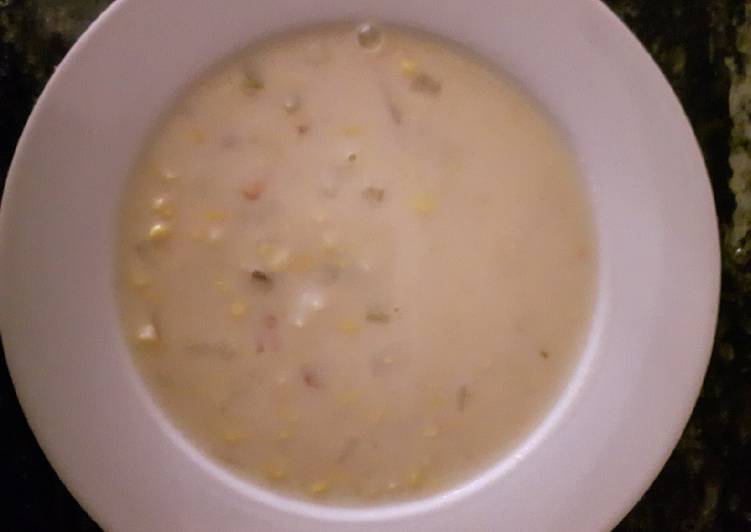 The original recipe calls for a strip of bacon, but you can add a little bacon fat instead, if you have some on hand, or just add a little more butter. Enjoy this chowder's rich, slow-simmered flavor in record time by using an Instant Pot. Corn chowder is a classic staple, with its hearty flavors of creamy sweet corn, bacon crumbles, shredded cheddar cheese and chopped parsley. You can cook Corn Chowder using 9 ingredients and 8 steps. Here is how you cook it.
Ingredients of Corn Chowder
Prepare 4 slices of bacon chopped.
It's 1/2 cup of chopped onion.
You need 1/4 cup of chopped celery.
You need 1 Tbsp of flour.
You need 2 cups of chicken broth.
It's 1 of large potato peeled and diced.
It's 2 cups of milk.
It's 2 cups of cream style corn.
You need to taste of Salt and pepper.
Place the bacon in a large pot over medium-high heat, and cook until crisp. Fresh Corn – I like to use yellow corn because it gives the chowder a nice color but white corn will work fine too.; Butter – this use used for sautéing and of course it's a staple duo with fresh corn.; Bacon – doesn't bacon make everything better? Here it adds an extra little oomph of flavor. Onion & garlic – these aromatics add dimension to the soup and.
Corn Chowder step by step
In a large saucepan cook bacon until crisp. Drain almost all of the bacon fat..
Add onion and celery and cook until soft but not browned..
Stir in flour..
Stir in chicken broth..
Add potato and simmer for 10 minutes or until potatoes are tender..
Add milk, corn and bacon and simmer for about 10 minutes. Do no boil..
Add salt and pepper to taste..
Enjoy!.
Thick and creamy, this hearty corn chowder soup is loaded with chunks of potato, ham, and tons of flavor! This soup is easy enough to make as a weeknight meal, and best of all can be made with fresh, frozen, or even canned corn, making it perfect all year round! In a large pot over medium heat, cook bacon until crisp. Remove bacon onto a paper-towel lined plate. Cook over medium heat, stirring constantly, until mixture is bubbly; remove from heat.