Recipe: Delicious Polenta and Vegetable Torte
Polenta and Vegetable Torte. Think of this polenta and vegetable recipe as a gluten-free swap for lasagna. It's the perfect torte recipe to serve come summer, since each slice is piled high with seasonal veggies including squash, sweet peppers, and tomatoes. Allow the polenta to cool completely.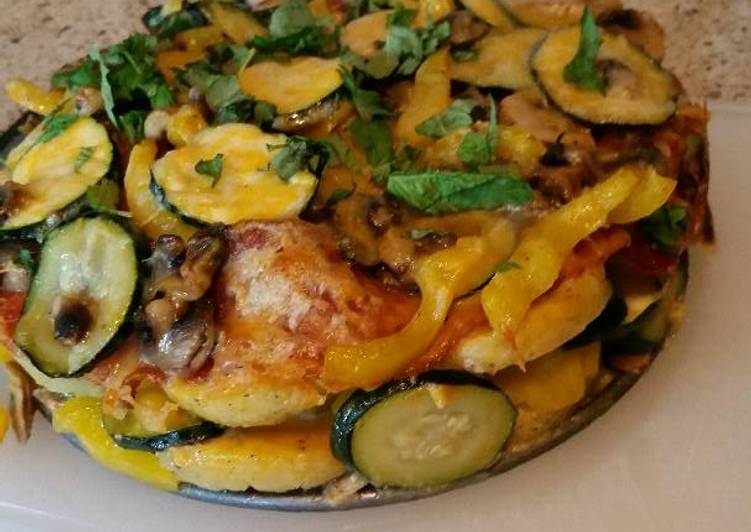 Crecipe.com deliver fine selection of quality Polenta and vegetable torte recipes equipped with ratings, reviews and mixing tips. Get one of our Polenta and vegetable torte recipe and prepare delicious and healthy treat for your family or friends. Place the bottom layer of the polenta cake upside down over the torta and press gently. You can have Polenta and Vegetable Torte using 9 ingredients and 5 steps. Here is how you cook that.
Ingredients of Polenta and Vegetable Torte
It's 1/4 c of olive oil.
You need 3 cloves of garlic (minced).
You need 2 (16 oz) tubes of refrigerated cooked polenta.
It's 1 1/2 c of bell peppers (red, green, or yellow; chopped) (2 peppers).
You need 2 1/2 c of zucchini or yellow squash (cut diagonally into 1/4 inch slices) (2 medium).
You need 1 c of fresh mushrooms (sliced).
You need 2 c of cheddar or mozzarella cheese (shredded).
Prepare 1 cup of cherry tomatoes (halved).
Prepare 1/3 c of fresh basil (lightly packed and torn).
Stir in fontina cheese, snipped herbs, and garlic. Pour polenta into prepared tart pan, spreading evenly and smoothing the top with a thin metal spatula. Heat oil in a large nonstick skillet over medium-high heat. My grandparents loved it, my parents felt the same way, so either at home or at a family Sunday gathering at my nonni's, you could easily find a polenta dish.
Polenta and Vegetable Torte instructions
Preheat oven to 425 F. In a small saucepan, heat olive oil and garlic over medium heat about 4 minutes or until oil is fragrant and garlic is translucent but now brown. Remove from heat..
Line a 15x10x1 inch baking pan with foil. Cut each tube of polenta into eleven slices, about 1/2 inch thick each. Place polenta slices in the prepared baking pan. Brush with 1 tbsp of the garlic oil; sprinkle with salt and ground black pepper. Roast about 15 minutes or until polenta is heated through and edges are lightly browned, turning once. Set aside. Reduce oven temperate to 350 F..
In an extra large skillet heat the remaining garlic oil over medium-high heat. Add peppers, squash, and mushrooms; cook about 6 minutes or until vegetables are crisp-tender, stirring occasionally. Sprinkle with salt and ground pepper..
In the bottom of a 9-inch springform pan, place as many slices of polenta that will fit in a single layer (about 11). You will be able to see the bottom of the pan between the curves of the polenta, but the slices should be touching. Then layer with 1/2 cup of the cheese, half of the vegetables, 1/2 cup of the cheese, the remaining polenta, 1/2 cup of the cheese, the remaining vegetables, the tomatoes, and the remaining 1/2 cup of cheese..
Bake about 35 minutes or until heated through. Cool in springform pan on a wire rack for at least 15 minutes. Using a small sharp knife, loosen edges of torte from sides of pan; remove sides of pan. Sprinkle torte with basil..
This is an excellent polenta recipe with a Mexican kick!! Slices of polenta are topped with black beans, corn, sauteed vegetables, salsa, and mozzarella cheese. This recipe is a complement to any brunch or dinner. The name says it all–this dish is super cheesy and a little hot. Reduce the heat to low and cook, stirring.