Recipe: Yummy Romanian cheese doughnuts – Papanasi
Romanian cheese doughnuts – Papanasi. Traditional Romanian fried doughnuts – papanasi (papanash) – made with cottage cheese and topped with smetana and jam. These papanasi or Romanian fried donuts/doughnuts are the best donuts ever!!! Soft yet crunchy, oozing with sour cream and blueberry jam, ever bite is a complete.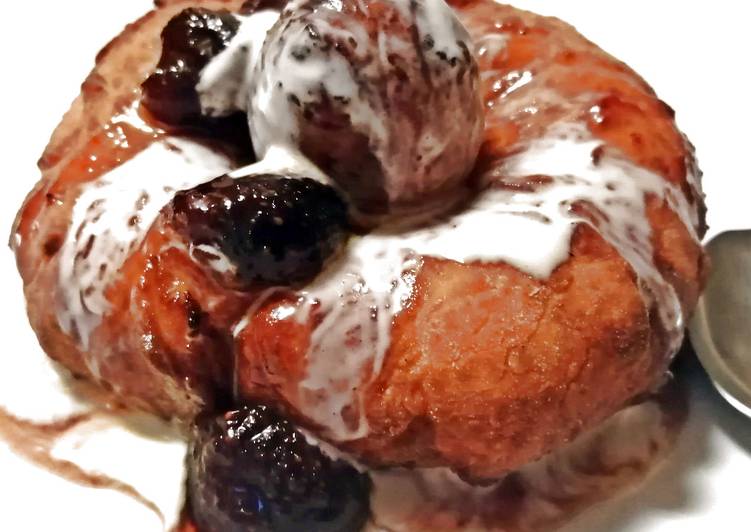 Romanian Papanaşi is a famous treat there. Honestly it makes me want to hop on the next plane just for this. Romanian Papanaşi is a fried cheese doughnut the hole of the doughnut is placed on top and in between it is smothered with cherry preserves and topped with confectioners sugar. You can have Romanian cheese doughnuts – Papanasi using 8 ingredients and 12 steps. Here is how you cook it.
Ingredients of Romanian cheese doughnuts – Papanasi
Prepare of 300 gr (10 oz) cottage cheese, drained.
Prepare 80 gr (3 oz) of caster sugar.
Prepare 2 gr (1 pinch) of baking soda.
It's 8 gr (1 tsp) of orange zest.
You need 100 gr (3.5 oz) of plain flour.
It's 14 gr of (2 x.32 oz) vanilla sugar.
It's 2 gr (1 pinch) of salt.
You need of neutral flavored oil for deep fry (canola, sun flower).
With crème fraiche, Polish sour cherry compote and Latvian gingerbread streusel. Delight guests and show off your cooking skills this holiday season by cooking up this traditional Romanian dessert, Papanasi. How to Cook Romanian Cheese Doughnuts (Papanasi). Add the eggs and sugar in a large bowl.
Romanian cheese doughnuts – Papanasi step by step
Check your recipe.
In a bowl add cottage cheese, baking soda, sugar, orange zest, vanilla sugar, eggs and 30 gr (1 oz) flour..
Mix well. Keep 2 tbsp of flour and add the rest gradually in the bowl until the dough sticks together..
Put the two tablespoons of flour kept on your cooking surface and pour the dough on it..
Knead just until incorporated..
Split the dough in 4 even pieces..
Shape the doughnuts; about 8 cm (3 inches) disc-shaped and cut out the center..
Shape the dough from cutting the center into balls..
Pour the oil in a pan and properly heat it..
Deep fry the doughnuts at medium temperature 175°C (275°F), 4 minutes on each side..
Drain the doughnuts on a paper towel..
Put one hot doughnut on a plate, garnish with one tablespoon of sour cream, put one ball over and garnish with a teaspoon of preferred jam..
Set up your mixer and mix until the sugar has been absorbed. Add the lemon zest, vanilla extract, cream cheese, flour, and lemon juice. Mix with a spatula until you obtain a smooth, silky dough. Romanian Papanasi Recipe, or fried cheese doughnuts served with sour cream and jam, a delicious dessert that we are so proud of. You will find papanasi in any Romanian restaurant, and anywhere else where traditional Romanian food is served.