Recipe: Delicious Vegan Summer Squash with Couscous
Vegan Summer Squash with Couscous. Cook couscous according to package directions. Meanwhile, brush the zucchini, yellow peppers and eggplant with oil; sprinkle with salt and pepper. Chop grilled vegetables; place in a large bowl.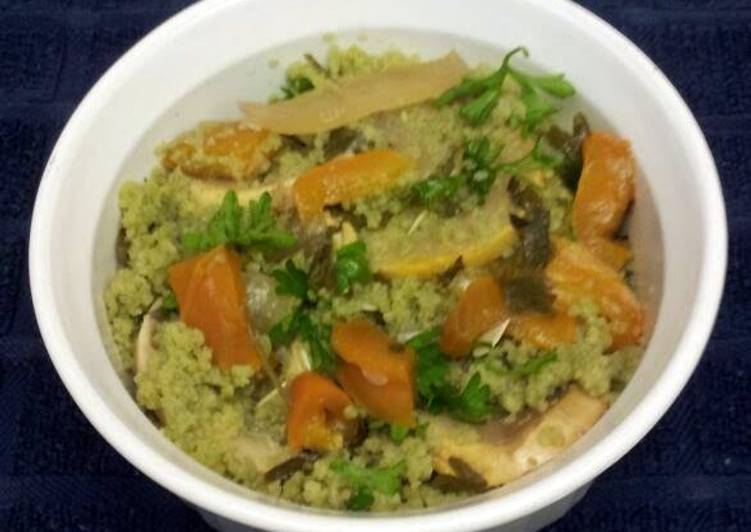 Serve scattered with the pumpkin seeds. To make this leek & mushroom couscous stuffed squash, we're going to start by filling our grocery baskets with ingredients from our Fall Grocery Guide: Meanwhile, add the couscous to the saucepan of boiling water and immediately turn off heat. Fish out the cinnamon stick and serve the vegetables and sauce over the couscous, garnished with the almonds. You can cook Vegan Summer Squash with Couscous using 15 ingredients and 12 steps. Here is how you achieve it.
Ingredients of Vegan Summer Squash with Couscous
You need of Vegetables.
Prepare 2 cup of Yellow Summer Squash.
You need 1 of Vidalia Onion.
Prepare 1 of Bell Pepper, Orange or Red.
It's 2 tbsp of Fresh Parsley.
Prepare 2 pinch of Sea Salt.
Prepare 1 tbsp of Grape Seed or Olive Oil.
It's of Couscous.
It's 3/4 cup of Couscous.
You need 1 of Rapunzel Vegan Vegetarian Bouillion with Sea Salt and Herbs.
Prepare 1 tsp of Basil.
Prepare 1 dash of Pepper.
You need 1 tsp of Grape Seed or Olive Oil.
You need 1 tsp of Fresh Chopped Parsley.
It's 2 cup of Water.
Add the couscous to the bowl and toss to coat with the dressing. Top the couscous with the toasted pine nuts, chickpeas, tomatoes, feta, olives, zucchini and squash, and basil. Vegetable Couscous CDKitchen. zucchini, vegetable broth. Add juice of ½ reserved lemon and lightly season with salt and pepper.
Vegan Summer Squash with Couscous step by step
This is a nice light vegan dinner for summertime that doesn't require much time over a stove. This can also be used as a healthy side dish when served in smaller portions..
Slice peeled onion in half, turn and cut long thin slices..
Cut squash into 1/4 inch slices.
Remove stem, ribs and seeds from bell pepper and discard. Cut bell pepper into one inch chunks..
Chop parsley finely..
In saute pan, add oil and onions, cook over low heat..
Once onions start to turn clear, add bell pepper. Continue cooking..
Add squash, parsley and salt. Cook until squash begins to turn translucent. Turn off heat when vegetables achieve desired state..
In a small sauce pan, set 2 cups water to boil with the bouillon cube and oil..
When water comes to a boil, add basil, pepper and couscous. Remove from heat, cover and let stand 5 minutes..
After the 5 minutes, stir couscous, then turn into a serving bowl. Fold in vegetables..
Sprinkle fresh parsley on finished dish..
Taste and if desired, add the juice of the remaining lemon half. Serve hot over freshly prepared whole wheat couscous (or another healthy option). In a large skillet over medium heat add a little olive oil. Add the squash flesh, corn, and tomatoes. Combine the couscous, veggies and pesto in a large bowl.