How to Prepare Yummy Pistachio cranberries biscotti
Pistachio cranberries biscotti. In a large bowl, mix together oil and sugar until well blended. Mix in the vanilla and almond extracts, then beat in the eggs. Combine flour, salt, and baking powder; gradually stir into egg mixture.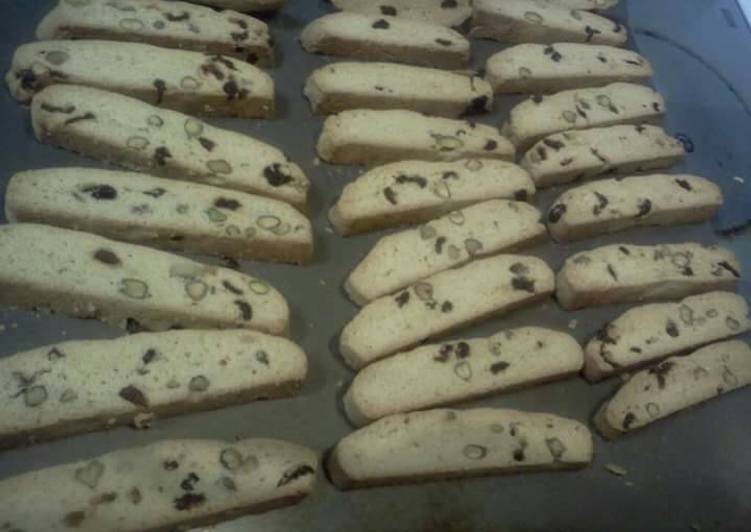 In a small bowl, beat sugar and oil until blended. Combine the flour, baking powder and salt; gradually add to sugar mixture and mix well (dough will be stiff). Line a baking sheet with parchment paper. You can have Pistachio cranberries biscotti using 9 ingredients and 5 steps. Here is how you achieve it.
Ingredients of Pistachio cranberries biscotti
You need 1/2 cup of raw pistachios.
Prepare 1/2 cup of cranberries.
You need 1/2 cup (1 stick) of unsalted butter.
It's 3 of eggs.
It's 3/4 cup of sugar.
You need 1 teaspoon of vanilla extract.
It's 3 1/2 cups of all-purpose flour.
It's 1 1/2 teaspoons of baking powder.
Prepare 1/2 teaspoon of salt.
This cranberry-pistachio biscotti is crunchy and perfect for dipping into coffee or tea. These twice-baked Italian-style cookies have flavorful cranberries and pistachios in them and finished with a sprinkling of sanding sugar. Cranberry-Pistachio Biscotti is crunchy and perfect for dipping into coffee. Place cranberries in a small bowl; sprinkle with orange juice.
Pistachio cranberries biscotti instructions
Preheat the oven to 350 degrees F.
Lay the pistachios on a cookie sheet in a single layer. Bake for 10 minutes or until the nuts are lightly toasted. Remove from the oven..
In an electric mixer, beat the butter until light and fluffy. With the mixer running gradually add the eggs, sugar, and vanilla extract; mix until creamed. Add the flour, baking powder, and salt. Mix dough until smooth. Using a wooden spoon, mix in the pistachios and cranberries until evenly distributed..
Place the dough on a lightly floured surface and cut in half. Roll each half into a log, each 12 inches long by 1-inch high. Place the logs on an ungreased cookie sheet and bake for 35 minutes or until the bottom are lightly brown. Let the logs cool for 5 minutes and then place on a cutting board, slice each log on and diagonal into 12 1-inch thick pieces. Put the cookies back on a cookie sheet and bake for 10 minutes. Turn the cookies over and bake the other side for another 10 minute.
Store cookies in an airtight container..
In a large bowl, cream butter and sugar until light and fluffy. Add eggs, one at a time, beating well after each addition. A few other favorites are Chocolate Pistachio Biscotti, Pumpkin Hazelnut White Chocolate Biscotti and Chocolate Chocolate Chip Biscotti. My husband always brings up the Chocolate Pistachio Biscotti I posted last year. I try not to make those too often because the two of us have no self-control when I bake them (so good!).