Easiest Way to Make Appetizing Cream Cheese Pound Cake
Cream Cheese Pound Cake. I have been making this pound cake for years, with only small changes. Start with ROOM TEMPERATURE butter,(REAL butter) cream cheese and eggs which makes for easier mixing and a more creamy outcome, and using cake flour. Cream Cheese: Cream cheese is the difference between dry pound cake and moist pound cake.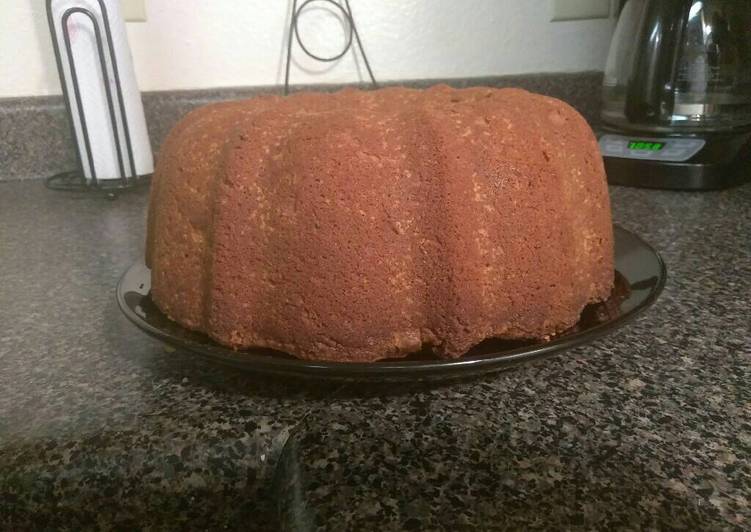 This Cream Cheese Pound Cake is no exception. It has a lovely golden brown crust that is sweet and so wonderfully crisp on the day it's made. It is important when making this pound cake to have the cream cheese, butter and eggs at room temperature as this enables the maximum amount of air to. You can cook Cream Cheese Pound Cake using 8 ingredients and 7 steps. Here is how you cook that.
Ingredients of Cream Cheese Pound Cake
You need 3 sticks of unsalted butter ( room temperature.
Prepare 8 oz of Cream Cheese ( room temperature.
You need 3 cups of Plain Flour.
It's 3 cups of Sugar.
It's 1/2 Tsp of Baking Powder.
You need 6 of Brown Eggs ( room temperature.
It's 1/2 tsp of salt.
It's 1 tsp of Vanilla extract.
Tips for Making Cream Cheese Pound Cake Recipe. With any pound cake, texture is key to creating the perfect taste. To create the best texture, begin by making sure that your cake batter is mixed well. You must beat your fat to incorporate air into your cake because it doesn't have a leavening.
Cream Cheese Pound Cake instructions
Preheat oven to 325.
Mix cream cheese and butter in a bowl until fluffy.
Add sugar.
Mix in eggs one at a time.
In a separate bowl whisk flour, salt and baking powder. Once done combine mixtures..Mix well.
Grease and flour Bundt cake pan or you can use baking spray.
Pour cake batter into pan. Allow to cook 1 hr & 25-30 min depending bon your oven..
Cream Cheese Pound Cake makes a delicious, family favorite pound cake recipe. How to Make Cream Cheese Poundcake. To bake this cake, you will need these ingredients. This Cream Cheese Pound Cake is a tender, moist, and flavorful dessert that's a new spin on traditional pound cake! This recipe is simple to make!