Recipe: Tasty Cream Cheese Salsa
Cream Cheese Salsa. It's addicting, it's creamy, it's so easy, and the spice level is up to you! Be sure to check out these recipes too: hot chocolate cheesecake dip, loaded pizza dip, instant pot mexican corn dip, and crack dip! The cream cheese and salsa dip has been around for years but this version bumps it up a notch and is far superior than the others.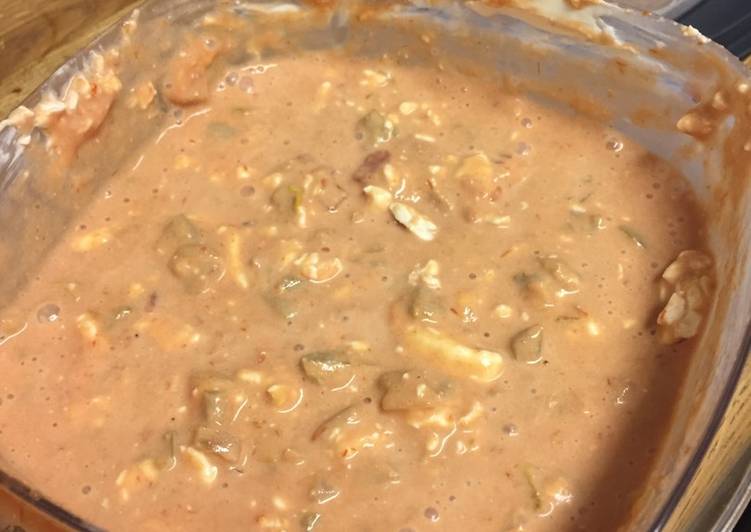 Cream Cheese Salsa is made with two simple ingredients; cream cheese and salsa! Bring it to parties and people will beg you for the recipe! Serve it on nachos, burritos, tacos, or with chips as an appetizer! You can cook Cream Cheese Salsa using 3 ingredients and 3 steps. Here is how you achieve it.
Ingredients of Cream Cheese Salsa
Prepare 1 jar of Tostitos chunky salsa.
Prepare 1 package of cream cheese.
You need 1 bag of tortilla chips.
So all you need for this delicious cream cheese dip for tortilla chips is a package of cream cheese, a can or Hornel chili with no beans, a can of chopped olives, and your favorite salsa. Cream cheese salsa taco packet Mexican cheese or Colby Jack cheese ground beef and jumbo shell noodles. One cream cheese and one taco packet per pound of beef that you use. Brown the ground beef Start cooking jumbo noodles and cook until finish then strain.
Cream Cheese Salsa step by step
Combine salsa and cream cheese. Mix until cream cheese is not lumpy and it has a lighter color as shown in the picture.
Dip your chips in and enjoy!.
.
Add cream cheese and taco packet mix until Cream cheese is melted Place softened cream cheese (not super soft!) in a serving dish. Cover cream cheese with salsa of choice. Enjoy with favorite brand or homemade tortilla chips. Burrito Bowls- Layer your choice of rice, beans, lettuce, leftover salsa chicken, cheese, sour cream, guacamole and pico de gallo in a bowl and enjoy! Stuffed Peppers- Hollow out a bell pepper and fill with a mixture of leftover salsa chicken and rice.