How to Prepare Appetizing Marsala Chicken Curry with Potatoes
Marsala Chicken Curry with Potatoes. Curry chicken with potatoes is the most common chicken curry recipe in Malaysia. Everywhere you go where curries are served, you will find this type of chicken curry. For the Nyonya in Penang, chicken curry is especially popular and often served with nasi kunyit which is Malaysian coconut milk.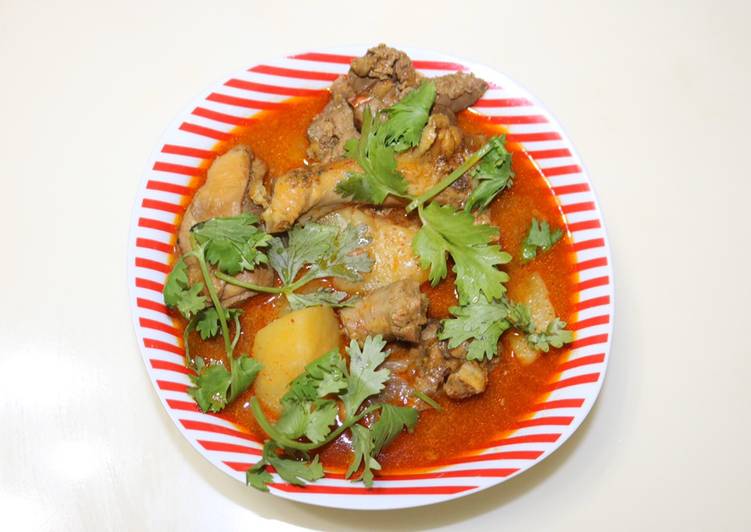 Almost in every Bengali home "Sunday Special mangsher Jhol" is must for lunch menu. "Jhol" is a term that denotes liquid curry/ stew which is prepared with. Rich with coconut milk and fragrant spices, this Garam Masala Chicken Curry is a cinch to make. Tender chicken, turmeric and just a hint of chili. You can cook Marsala Chicken Curry with Potatoes using 13 ingredients and 12 steps. Here is how you achieve it.
Ingredients of Marsala Chicken Curry with Potatoes
You need of Whole chicken.
It's of Salt.
You need of Marsala powder.
Prepare of Turmeric powder.
It's of Chilli powder.
It's of Garlic.
Prepare of Onions.
Prepare of Potatoes.
It's of Groundnut oil.
You need of Fish sauce.
Prepare of Vegetarian Mushroom Seasoning.
Prepare of Dahl Flour.
You need of Water.
When making this Garam Masala Chicken Curry recipe, we used the Organic Exotic Garam Masala Curry from our longtime partner, Pure Indian Foods. Chicken marsala is an Italian-American dish made from chicken breast and Marsala wine. It is a variation of traditional Italian scaloppina dishes, of which there are many varieties throughout Italy. Learn how to make classic Thai chicken curry with potatoes with this simple and easy recipe that's sure to be a family favorite.
Marsala Chicken Curry with Potatoes step by step
Marinate 1 whole chicken with 2 spoons of salt, half spoon of turmeric powder and full spoon of Marsala powder. Massage the chicken with the seasoning..
Pound some onions and garlic into a mashed form.
Add 3 full spoons of Chilli powder and pound into a paste..
Peel and cut 6-7 potatoes into small pieces depending on the proportion you're making. Add 1 half spoon of salt and mix the potatoes well..
Add Groundnut oil and heat it up. Add the paste. And 2 spoons of marsala powder. Mix them up with the spatula..
Add in the marinated chicken. Mix it well and then cover the wok. Wait until water spills out of the chicken. Mix it with the spatula again and ensure the paste doesn't stick to the wok..
Add some water to prevent the chicken and paste from sticking to the wok. Leave the cover on, and only remove it from time to time to stir it up using the spatula. Add some fish sauce and mix them well..
After about 5 minutes, add in the potatoes and mix them up. Close the cover and only remove it to add some water and stir the curry from time to time for 2 minutes..
Mix Dahl Flour with water and pour it in to make the curry more pasty.
Add 1 and a half spoon of vegetarian mushroom seasoning if it's too salty..
This is the amount of water that you should add in overall. Cover the wok and then wait for approximately 13 minutes for the potatoes to become soft. You can use the spatula to press against the potatoes to test the softness of the potatoes..
Now you have a delicious dish of Chicken Curry with Potatoes..
It's a classic yellow curry made with chunks of chicken and potatoes and tastes like one of those wonderful curry dishes you can find in the marketplaces and streets of. This Thai Yellow Chicken Curry is comfort food meets takeout at home. Or are those the same thing? It's so good – especially if you treat yoself with the coconut cream I just made the yellow curry chicken & potatoes recipe. It was easy and tastes like the one I love at the Thai restaurant near me.