Easiest Way to Cook Yummy Dark Chocolate Coconut Raspberry Cheesecake
Dark Chocolate Coconut Raspberry Cheesecake. My husband loves cheesecake, and this favorite is from a cookbook I Spread over top of cheesecake. Garnish with raspberries and whipped cream if desired. Used Ghiradelli bittersweet chips for topping for a dark chocolate flavor.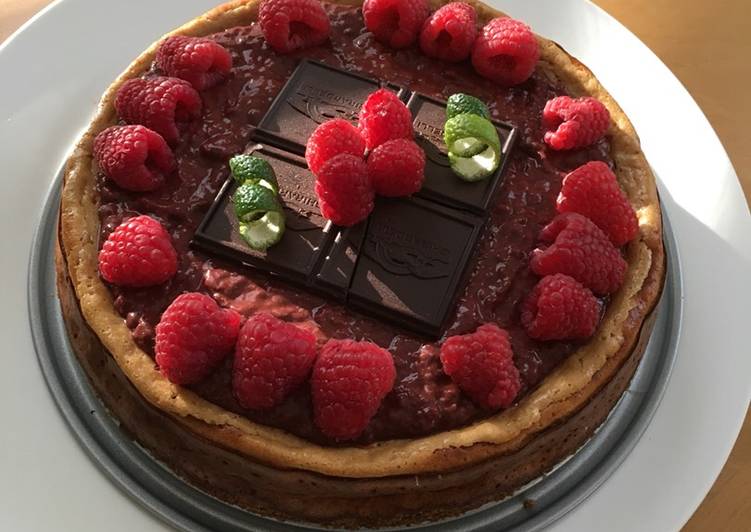 Find this Pin and more on ! BEST DESSERTS ! by This Healthy Table. With the almonds, dark chocolate, and raspberries, there is no shortage of flavor or texture! You can cook Dark Chocolate Coconut Raspberry Cheesecake using 14 ingredients and 8 steps. Here is how you achieve it.
Ingredients of Dark Chocolate Coconut Raspberry Cheesecake
Prepare 2 cups of graham cracker pieces.
Prepare 3 tbsp of butter, melted.
It's 1 of lime.
You need 16 oz. of coconut Greek yogurt.
You need 8 oz of cream cheese.
It's 2 cups of coconut palm sugar.
It's 1/4 cup of flour.
Prepare 1 tsp of vanilla extract.
You need 1 tsp of coconut extract.
It's 1/2 tsp of salt.
Prepare 3 cups of fresh raspberries.
You need 1 of large bar dark chocolate.
Prepare 1/4 cup of fruit juice (any).
You need 1/2 pkg of unflavored gelatin.
It reminds me of my raspberry almond crumb cake, but today's recipe swaps cinnamon and brown sugar for I was wondering can I add coconut to the cake xx thanks sally. Looks delicious can't wait to make ! PRESS DOWN raspberries slightly into batter. POUR remaining batter over raspberries WHILE making sure berries are completely covered.
Dark Chocolate Coconut Raspberry Cheesecake instructions
Position an oven rack in the center of the oven and preheat to 325 degrees F. Coat a 9-inch springform pan with cooking spray. Wrap the bottom and sides of the pan with a large piece of foil and place the pan on a rimmed baking sheet..
Put the graham crackers into a food processor and pulse until fine. Add the butter and process until the crumbs are moistened. Press the crumbs into the bottom and about 1/2 inch up the sides of the prepared pan. Bake until the crust is slightly dry in appearance and fragrant, about 5 minutes. Cool completely..
Cut two thin strips from the lime and form into tight curls, zest the remainder, set both aside..
Combine the yogurt, cream cheese, eggs, sugar, flour, vanilla, coconut extract, lime zest and salt in a food processor and process until well blended and smooth. Pour over the prepared crust and bake until the center is just set, 40 to 50 minutes. Let cool completely on a wire rack, then cover and chill in the refrigerator for at least 3 hours or overnight..
Put 2 cups of the raspberries and the juice in a medium saucepan and bring to a boil. Break half the dark chocolate bar into small pieces and add slowly to the mixture, stirring constantly until melted. Reduce heat to low and cook for 5 minutes, then remove from heat..
Sprinkle the gelatin over 1 tablespoon water in a small bowl and let stand 5 minutes. Stir the dissolved gelatin into the hot raspberry-chocolate mixture until combined. Transfer the mixture to a medium bowl, cover and chill until thickened, about 3 hours..
After chilling the cheesecake, remove the springform ring. Slice and serve, topped with the raspberry-chocolate sauce. If the sauce is too thick, rewarm it in the microwave for 20 seconds at a time before spooning over the cheesecake..
Decorate with remaining chocolate, remaining raspberries and lime curls..
Combine raw chocolate ingredients in a small bowl set over a saucepan of boiling water and stir until melted and smooth. The combination of chocolate and raspberries is to die for! In truffles, cake, ice cream… It makes me weak at the knees! But then Dark Chocolate Coconut Bites came waltzing right in and got me all mixed up. These are one of those sweet, perfect, cutesy things that I like to keep in a little.