How to Prepare Tasty Dill Red Skinned Potatoes
Dill Red Skinned Potatoes. A creamy dill red skin potato salad will vanish from your table in no time. Now, get the burgers and dogs ready. I like using the red skin potatoes not only for their great flavor but, I don't like spending the time peeling cooked potatoes and burning my fingers.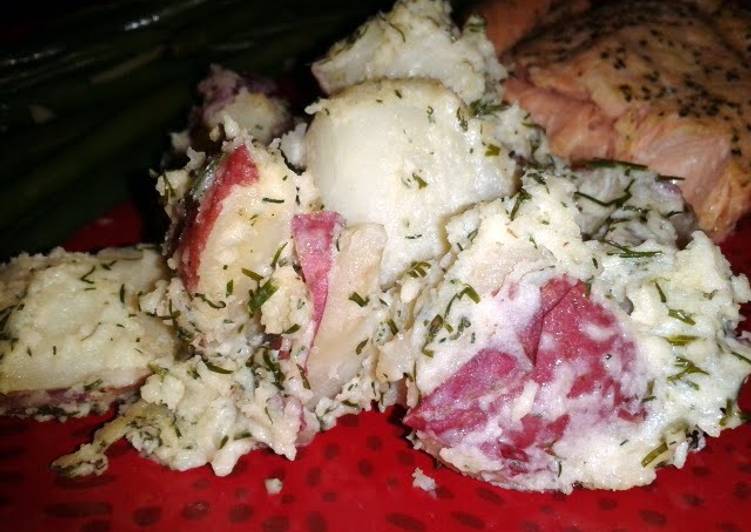 These simple roasted potatoes pair fabulously with a variety of meals and work well as a breakfast, lunch or dinner food. Chop dill finely and add as much as you like. Drizzle pickle juices over hot potatoes and toss gently. You can cook Dill Red Skinned Potatoes using 6 ingredients and 7 steps. Here is how you achieve that.
Ingredients of Dill Red Skinned Potatoes
It's 8 small of red skinned potatoes.
It's 6 tbsp of fresh dill, chopped.
You need 3 tbsp of sour cream.
You need 4 tbsp of unsalted butter.
Prepare 1 dash of Kosher salt.
It's 1 of fresh cracked pepper.
Whisk together the mayonnaise, buttermilk, dill, mustard, sugar and pepper in a medium bowl. Bring a large pot of salted water to a boil. Red Potatoes with Dill, Garlic & Cumin. Serve red potatoes with dill as a side dish to any meal. * You can use butter in place of oil in this recipe. * Half the amount of cumin seeds in the recipe if you are not too fond of the cumin flavor.
Dill Red Skinned Potatoes instructions
Wash potatoes and cut into quarters, leaving skin on..
Steam potatoes in basket steamer until tender but NOT mushy..
Once potatoes are done steaming, melt butter and sour cream in saucepan over medium heat..
Add fresh dill to saucepan and allow to simmer for 1 minute while stirring frequently to avoid burning the cream..
Add potatoes to saucepan and toss..
Sprinkle with salt and pepper to taste..
Serve immediately. Goes well with baked Salmon and steamed green beans..
This classic red potato salad recipe is enhanced by a tangy mayonnaise and sour cream dressing which combines beautifully with the fresh dill. Cut the potatoes into small, bite-size chunks and place in a medium saucepan. Made with red potatoes, LOTS of sour cream (plus mayo), green onions, and plenty of dill. You can leave the skins on or peel them. Cut each potato in half or quarters, depending on size.