Easiest Way to Make Yummy Beef Patties with Lemon Zest and Dill
Beef Patties with Lemon Zest and Dill. These cute little patties are a great way to get my whole family to enjoy salmon, even my toddler! These tuna patties will bring back your childhood memories. They're easy to make and can be a meal on their own.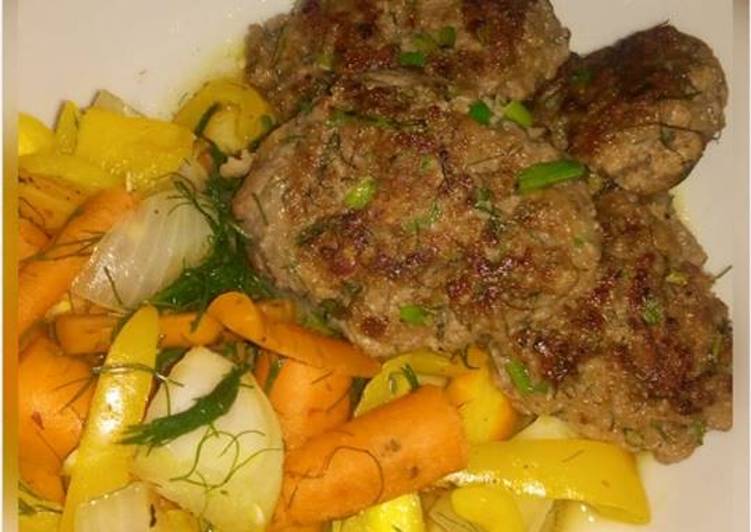 This is easy, so after work, it's great for a tasty meal. This recipe for one pot Greek meatballs with lemon dill rice includes savory Greek spiced beef meatballs, creamy arborio rice and vegetables. Remove the pan from the oven. You can cook Beef Patties with Lemon Zest and Dill using 8 ingredients and 3 steps. Here is how you cook that.
Ingredients of Beef Patties with Lemon Zest and Dill
It's 500 grams of ground beef.
You need 50 grams of dill, chopped (suit the amount to your liking).
You need 2 tsp of chopped lemon zest.
It's 2 tsp of salt.
You need 1 tsp of ground black pepper.
You need 1/2 cup of bread crumbs.
It's 1 of egg.
Prepare 1 tbsp of oil.
Stir the lemon juice and dill into the rice and place the cherry tomatoes on top. These vegan white bean patties have a surprisingly short ingredient list despite the long title – just seven ingredients, not including the basic These little lemon white bean patties were born from an empty fridge and a lack of beans. Increase heat to medium-high and add beets, carrots, celery, celery root and half the dill. Sauté, adjusting heat as needed, until vegetables have released.
Beef Patties with Lemon Zest and Dill instructions
Mix all ingredients except oil and knead well..
If the mixture is too thick, add an egg. If it is too mushy, add bread crumbs..
Form patties. Heat the oil in a pan. With medium heat, pan-fry the patties and flip after a couple of minutes or so..
Roast Potatoes with Lemon, Dill, Onion and Garlic. Roast potatoes have got to be one of my favorite side dishes. Serve it with a roast lamb shoulder, Pot roast of Beef, Turkey, Chicken or even fish. Salmon and dill are a match made in heaven this one with some baked salmon is a big. Add the dill, lemon zest and juice, turkey, and peas, and fold to incorporate.