Recipe: Yummy Creamy Feta Greek Salad Dressing
Creamy Feta Greek Salad Dressing. In making salads that the whole family embraces, I find that creamy salad dressings go a long way. My kids love buttermilk ranch and Caesar, and every time I make this creamy feta dressing, my normally salad-averse husband suggests that I bottle it up and sell it.(He would love to retire and play golf every day, so he has lots of great ideas for me 😉.) Kittencal's Creamy Greek Feta Salad Dressing. Creamy Feta Dressing features Greek yogurt, crumbled feta cheese, and fresh dill, making it a delicious complement to salads, tomatoes, cucumbers, and more!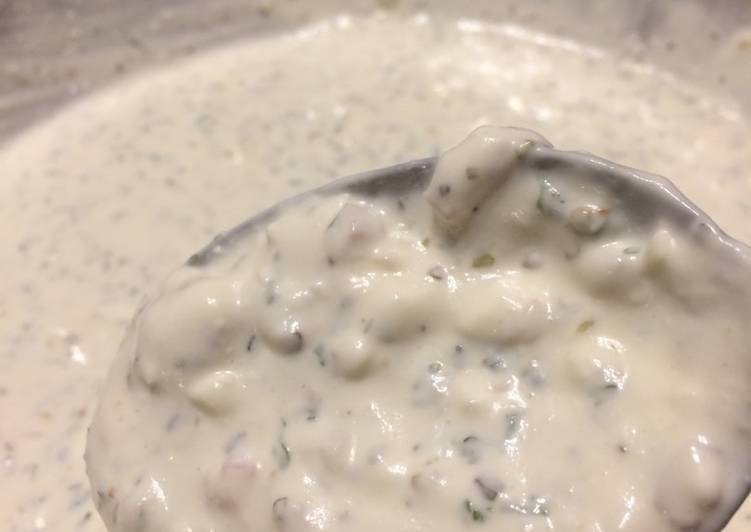 Mediterranean Chopped Salad with Creamy Greek Dressing. The creamy Greek dressing is AMAZING! I typically double the recipe so I have extra in the fridge the next day. You can have Creamy Feta Greek Salad Dressing using 11 ingredients and 6 steps. Here is how you cook that.
Ingredients of Creamy Feta Greek Salad Dressing
Prepare 1 cup of whole milk Greek yogurt.
You need 1 cup of crumbled feta cheese.
Prepare 1 cup of mayo.
Prepare 1 of shallot, minced.
Prepare 4 of garlic cloves, minced.
You need 2 Tbsp of minced parsley.
It's 1 Tbsp of Dried Greek herb blend.
You need 1 tsp of kosher salt.
You need 1 tsp of black pepper.
You need 1 cup of buttermilk.
It's 1/2 of lemon juiced.
It will thicken a bit in the fridge. Using a blender or food processor makes this Greek salad dressing super easy and ready in just five minutes. All the ingredients go into the blender or food processor at once. Just whizz them together until it is a thick creamy dressing.
Creamy Feta Greek Salad Dressing instructions
Put yogurt, Mayo, Feta, garlic, shallot, parsley and seasonings in bowl..
Mix together well. It will still be thick and lumpy. That is perfect..
Next add in buttermilk and lemon juice. Whisk together. You can adjust the consistency to your liking here..
Adjust seasoning if needed..
Enjoy!.
Thank you.
To make a creamy Greek salad dressing, add all the ingredients except oil to a blender. Creamy Greek Salad – our favorite salad!!! Romaine, tomatoes, thinly sliced seedless cucumbers, sliced banana peppers, olives, feta cheese, croutons and homemade Creamy Greek dressing. The dressing really puts this salad over the top!!! Mayonnaise, red wine vinegar, milk, sugar, Greek seasoning, garlic, salt and pepper.