Easiest Way to Cook Delicious Tomato, Feta and Broccoli Quiche
Tomato, Feta and Broccoli Quiche. Quiche with feta, broccoli and dried tomato is something that you can make using sun-dried tomatoes, which are lovely in and of themselves. Expert: Sophia Khan Filmmaker: Diego Vergara. Series Description: Making a quiche doesn't have to be difficult, and it most certainly doesn't have to.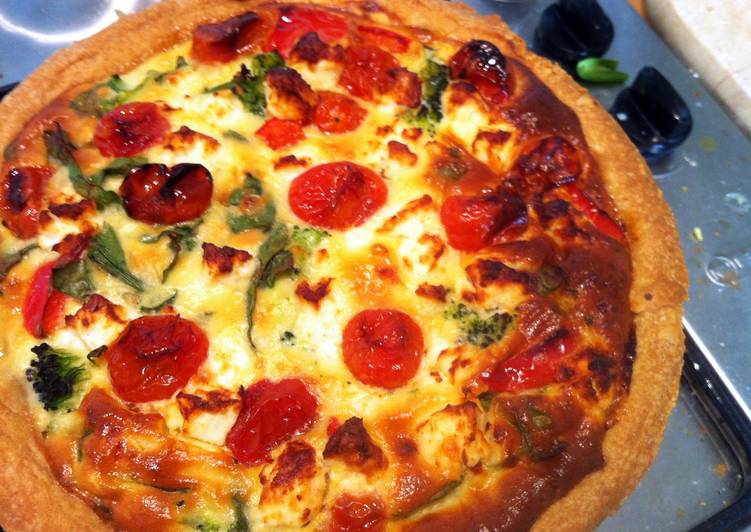 Drain broccoli; rinse in cold water until cool. Cooking the broccoli for a very short time, called blanching. It brings out the bright green color of the broccoli and softens it just a bit. You can cook Tomato, Feta and Broccoli Quiche using 5 ingredients and 7 steps. Here is how you achieve it.
Ingredients of Tomato, Feta and Broccoli Quiche
You need 225 grams of Plain flour.
It's 300 ml of Milk.
Prepare 1 of Handful each cherry tomatoes, cooked broccoli, feta, spinach, pepper or other veg.
Prepare 2 of Eggs.
It's 100 grams of Butter.
It tastes a lot like spanakopita (Greek spinach pie), packed full of fresh spinach and feta cheese and topped with the tastiest tomatoes you It's easy to make because you don't have to fuss with a crust (similar to my crustless broccoli, bacon, and cheddar quiche) and you can serve it warm. These rich, fluffy quiches are why the classic French dish is one of our favorite go-to meals. Ours feature tender spinach, juicy tomatoes, and two kinds of cheeses: tangy goat and briny feta. with Roasted Broccoli. This is an impressive looking quiche that's easy to personalise to your own tastes.
Tomato, Feta and Broccoli Quiche step by step
Rub 200g of the flour and your butter together, then add 8 tablespoons of water. Combine to make the pastry.
Roll out and use to line pre-greased 20cm tin. Refrigerate for 20 mins and preheat oven to 180 fan..
Line pastry case with greaseproof and baking beans, blind bake for 20 mins then take out beans and greaseproof and bake for a further 5-10 mins until golden.
At the same time as the pastry is cooking, roast your cherry tomatoes and pepper in a dash of olive oil.
Saut? your onion, then add 300ml milk and 25g of flour and stir over a low heat until it thickens. Remove from heat and leave to cool for 5 mins before beating in the eggs.
Add your spinach, pre-cooked broccoli and peppers to the sauce, then pour into your pastry case.
Scatter your tomatoes and feta cheese on top. Bake for 35-40 mins.
You may like to try red peppers instead of the tomato, add a few mushrooms, maybe some asparagus.you get the idea! I served this with a nice salad, a vegetable side dish and a cheese plate for a nice summer meal. Season with salt and pepper, if desired. Pour Quiche Batter over Filling in Crust. Tomato-Broccoli Quiche recipe: Try this Tomato-Broccoli Quiche recipe, or contribute your own.