Recipe: Tasty Fresh Wild Garlic Pesto
Fresh Wild Garlic Pesto. Find Deals on Fresh Pesto in Groceries on Amazon. A deliciously fresh pesto with wild garlic (aka bear garlic, buckrams, ramsons). Rinse the garlic in water, dry with a paper towel and cut into large pieces.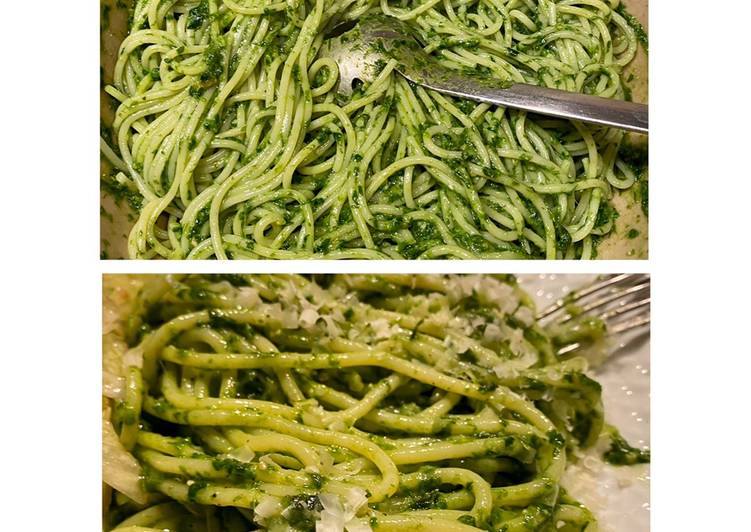 As an ingredient, wild garlic has definitely become more and more popular over the years, especially for the ambitious home cook. Danny aka Food Urchin is lucky to have wild garlic growing in his garden and shares some of his favourite recipes for the plant, including a spring fresh wild garlic pesto. It will look and taste different but will be delicious in its own way. You can cook Fresh Wild Garlic Pesto using 6 ingredients and 5 steps. Here is how you cook it.
Ingredients of Fresh Wild Garlic Pesto
You need 2 bunches of fresh wild garlic.
Prepare of High-quality olive oil.
It's 2-3 cups of grated cheese (fresh Parmesan and/or Gruyére).
Prepare 50 g of pine nuts.
Prepare 1 squeeze of lemon juice.
Prepare to taste of Salt and pepper.
I really like to eat wild garlic as pesto with fresh pasta, but it also tastes great raw in salads or with herb butter. A blob of our vegan wild garlic pesto stirred in fresh hummus, spread on bread or used as a dip for vegetable sticks is by the way also fantastic. And best of all: our vegan wild garlic pesto keeps airtight for several months. Wild garlic pesto is made with roasted pine nuts, sunflower seeds, pumpkin seeds, good quality olive oil, Parmesan cheese and of course fresh wild garlic leaves.
Fresh Wild Garlic Pesto instructions
Wash and dry the wild garlic. Rip into pieces and place in a high container that is suitable for blending. Add a few glugs of olive oil and start to shred with an immersion blender. You might have to add the wild garlic bit by bit if it doesn't all fit immediately..
Add a squeeze of lemon juice and a pinch of salt and pepper. Add the grated cheese..
Roast the pine nuts in a dry pan over medium heat, stirring/turning them regularly. Keep your eyes on the pan, as they tend to burn quickly! Rove from the pan once they then golden brown, let cool and add to the pesto. Blend again..
Add olive oil until the consistency is creamy and a little liquidy. Season with salt and pepper to taste..
Serve with pasta and green salad..
Instead of using pine nuts, pumpkin seeds and sunflower seeds, you could also just use walnuts, cashew seeds, or almonds. If you want to keep it longer, pour a small layer of olive oil on top of the pesto. Rinse and roughly chop the wild garlic leaves. Blitz the wild garlic leaves, parmesan, garlic, lemon zest and pine nuts to a rough paste in a food processor. Season, and with the motor running slowly, add almost all the oil.