How to Cook Tasty Ginger Pistachio Cookies
Ginger Pistachio Cookies. Read Customer Reviews & Find Best Sellers. Cranberry Ginger Pistachio Sugar Cookies This is a simple and easy sugar cookie filled with the flavors of fresh cranberries, crystallized ginger, and chopped pistachios. This recipe makes colorful and delicious cookies to include in your cookie exchange or to tuck into your kid's lunch boxes.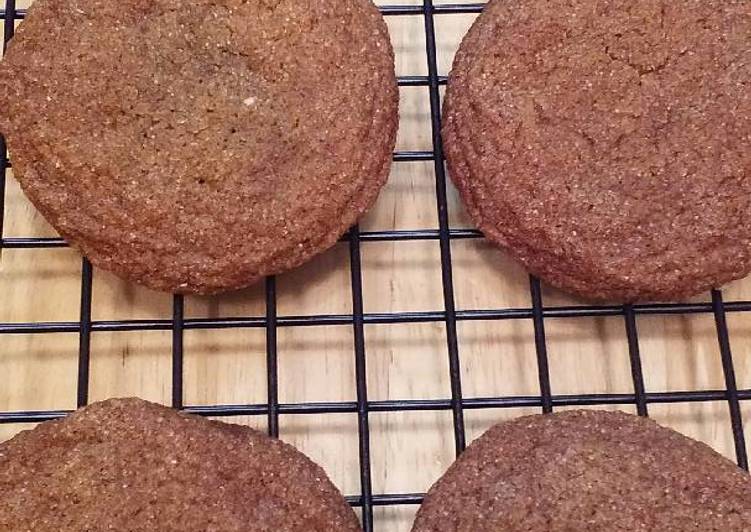 These green cookies are delicious anytime of the year. Make some green frosting for these cookies using a sugar cookie icing recipe found on Cookierecipe.com. Adapted from my Snowball Cookies, these soft and crumbly Pistachio Cookies are made from REAL pistachios and topped with brown butter icing. You can have Ginger Pistachio Cookies using 13 ingredients and 5 steps. Here is how you achieve it.
Ingredients of Ginger Pistachio Cookies
It's 2 cups of all purpose flour.
You need 1 tsp. of baking soda.
It's 1 tsp. of ground cinnamon.
Prepare 1 tsp. of ground cloves.
You need 1 tsp. of ground ginger.
You need 1/2 tsp. of salt.
You need 3/4 cup of unsalted butter, softened to room temperature.
Prepare 1/2 cup of brown sugar.
You need 1 cup of granulated sugar, divided.
It's 1/4 cup of unsulphured molasses.
It's 1 of large egg, at room temperature.
Prepare 1 tsp. of vanilla extract.
It's 1 cup of finely chopped salted pistachios.
Flourless Pistachio Cookies Give Recipe. grated coconut, pistachio, powdered sugar, egg white. The Pistachio Lemon Cookie Recipe are perfect for those summer afternoons when they come straight out of the oven. The rind of the lemon along with juices and the dusted icing on top of the cookies make it delectable and perfect for an afternoon tea party or a snack. When you make them you will  notice that these cookies are not crisp and crunchy but soft with a lot of textures.
Ginger Pistachio Cookies instructions
In a medium bowl, whisk together the flour, baking soda, cinnamon, cloves, ginger and salt. Set this aside..
In a large bowl, using either a stand mixer fitted with a paddle attachment or a hand mixer, beat the butter on medium-high speed for 1 minute or so, until smooth. Add the brown sugar and 1/2 cup of the granulated sugar and beat until creamed together. Add in the molasses, egg and vanilla extract and beat on high speed until combined. Scrape down the sides and the bottom of the bowl as needed..
Add the dry ingredients to the wet on low speed until combined. Then fold in the pistachios. Cover the dough and place it in the fridge to chill for 1 hour (and up to 4 days). If chilling for longer than 3 hours, then let the dough sit out for 30 minutes before rolling and baking..
Preheat the oven to 350°F. Line a couple baking trays with either parchment paper or silicone baking mats and set them aside. Place the remaining 1/2 cup of sugar into a small bowl. Roll the dough into balls, about 1 tbsp. of dough per ball. Then roll the balls into the granulated sugar. Place them on the trays, about 2" apart..
Bake for 11-13 minutes, until the top begins to crack. Allow them to cool on the tray for 5 minutes, then transfer them to a wire rack to cool completely. They can be stored at room temperature for up to 1 week..
This recipe was published in Treasury of Holiday Cookies, one of those cook booklets you get at the grocery. It caught my attention due to the pistachio farm that we frequent in NM. I haven't made this as yet, but plan to for the holidays. The recipe in the book calls for ¼ cup freshly ground nutmeg; however, I felt that might be a tad overpowering. Your pistachio shortbread cookie reminded me of a wonderful pairing of pistachio with cardamom, often used in the royal Mughal desserts of India.